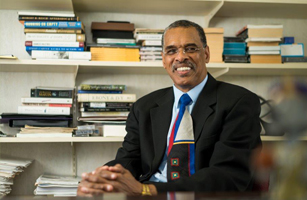 August is Pipeline Month at the VSCPA! This month, we'll be highlighting educators who are working to create a CPA culture on campus and help fulfill the VSCPA2025 bold strategy, "Influence students to become CPAs." Our next subject is Alex Gabbin, CPA, accounting professor at James Madison University (JMU) in Harrisonburg.
VSCPA: What do you hear from students at your university about the CPA credential?
AG: For students in the School of Accounting at James Madison University, the CPA certificate is the goal. The following data is typical for JMU accounting majors and clearly reflects that mindset: (a) 64 percent of Bachelor's degree accounting majors go on to graduate study (MSA programs) and an additional 19 percent have accepted jobs prior to graduation, 72 percent of whom go to work for a CPA firm; (b) of the 64 percent of bachelor's degree students going on for graduate study, 90 percent will accept jobs with CPA firms prior to graduation. While data is not available, it is reasonable to assume that some of the students who choose careers in consulting, government, or other fields will also seek the CPA credential. JMU accounting majors value the CPA certificate and take great pride in letting the faculty know about their success in passing the CPA Exam. 
VSCPA: When you were a student, what led you to pursue the CPA credential?
AG: My bachelor's degree is in economics with a mathematics minor. I became interested in accounting as a career in graduate school (MBA program), based on an introductory accounting course taught by a phenomenal instructor. Once I switched my major, this instructor continued to mentor me as I developed my career goals.
VSCPA: What's the best way universities and professors can influence students to become CPAs?
AG: Universities can aggressively acknowledge their successful alumni, students and outstanding faculty, especially when the success can be compared to external marketplace metrics like employment, starting salaries, certifications and executive-level leadership. The best way for professors to influence students is the role model students see in them. While not the only source of information students have about CPA's, the professor's presence (appearance, lectures, value system reflected in how the course is managed) in the class will either enhance or discourage a student's interest in becoming a CPA.   
VSCPA: What can CPAs do to get students interested in the p​rofession before they get to college?
AG: Prior to college, students need to see CPAs as visible participants in the life of their communities. 
VSCPA: What's your opinion on the potential alternate pathway to the CPA for non-accounting majors?
AG: For students who did not major in accounting as an undergraduate, an alternative path to the CPA is graduate study in a MBA program. This would require targeted promotion on the part of the CPA profession. KPMG's Ph.D. Project is an excellent example of this type of targeted promotion, where individuals who have been highly successful in the private section are provided with the information and support they need to transition to a career in higher education. Making this kind of transition is not for everyone, but the information is provided to help motivated young professionals who do want a change in career path.