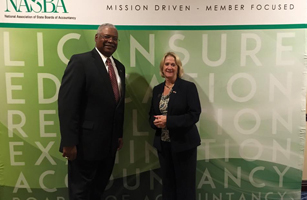 VSCPA members Tyrone Dickerson, CPA, and Stephanie Saunders, CPA, were elected to the National Association of State Boards of Accountancy (NASBA) Board of Directors at the NASBA Annual Meeting on Oct. 27.
Dickerson, a sole proprietor from Richmond, was elected as an at-large director. He was a Virginia Board of Accountancy (VBOA) member from 2005–2013 and served as chair in 2010–2011. He will serve a three-year term on the NASBA board.
Saunders, a partner at Saunders & Saunders in Virginia Beach, was elected as the Mid-Atlantic Regional Director. She has been on the VBOA since 2012 and is the current chair. She was elected to a one-year term and can serve two additional one-year terms.