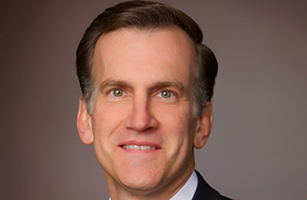 VSCPA member Gary Thomson, CPA, was elected chairman of the Virginia Chamber of Commerce during the Chamber's annual winter board meeting in late January.
Thomson, the Virginia regional managing partner at Dixon Hughes Goodman, will serve a one-year term and focus on promoting the Chamber's Blueprint Virginia business plan with the goal of strengthening and expanding Virginia's economy and ensuring the Commonwealth remains a top state for business and technology.
"I'm honored to be elected chairman of the Virginia Chamber of Commerce," Thomson said in a release. "In my own leadership role at Dixon Hughes Goodman, I focus on implementing goals that will profitably grow our firm through these economically challenging times.  As Chairman of the Virginia Chamber, I will continue to use my own business leadership experience for the good of Virginia's business community as a whole."
Thomson, a Chester resident, is a member of the VSCPA Political Action Committee (VSCPA PAC) Board of Trustees. He served as chair of the VSCPA PAC Steering Committee in 2010–2011 and has served on numerous VSCPA committees.
He is the former chairman of the Governor's Advisory Council on Virginia Business-Education Partnership Program, the former vice chairman of the Commonwealth's School to Work Advisory Committee and a former member of the Governor's Blue Ribbon Commission on Higher Education.