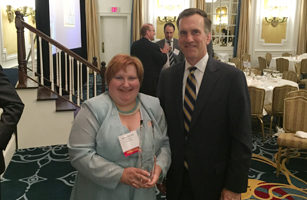 For nine years, the VSCPA and Virginia Business have teamed up to recognize the thousands of extraordinary Certified Public Accountants (CPA) who work in Virginia. The Virginia CFO Awards program was developed to honor Chief Financial Officers (CFO) or those holding equivalent positions whose ingenuity and dedication have led to success for their companies, their staff and their professional careers.
More than 40 nominees and top winners were announced at the awards ceremony June 23 at the historic Jefferson Hotel in Richmond in the following categories: public company, small private company, large private company, small nonprofit and large nonprofit.
The VSCPA congratulates member Lori Overholt, CPA, president & CFO of VSA Resorts, a vacation ownership company in Virginia Beach, who won in the small private company category. Above, Overholt (left) poses with fellow VSCPA member Gary Thomson, CPA, of sponsor Dixon Hughes Goodman.
"I'm just honored to have been nominated, and I was honestly stunned to win," Overholt said. "There were so many great nominees, and I'm so proud of Virginia as a state and what they do for business. I'm glad to own a business and be a CFO in Virginia."
The VSCPA also congratulates member Cynthia Joyce, CPA, of JoycePayne Partners in Richmond, who was selected as an award finalist in the small private company category.
To view a biographical sketch of the top winners or to view the "Virginia CFO Awards" section of Virginia Business, visit the magazine's website at www.virginiabusiness.com.