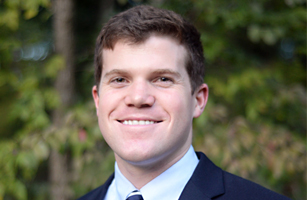 VSCPA member Eric Albee is joining the workforce with a pretty big wind at his back, courtesy of a standout performance on the CPA Exam.
Albee, a Virginia Tech graduate and an associate in the assurance practice at Dixon Hughes Goodman in his native Richmond, is a 2015 recipient of the American Institute of CPAs' (AICPA) Elijah Watt Sells Award, given to outstanding performers on the CPA Exam. Winners must obtain a cumulative average score above 95.5 across all four sections of the Exam and pass all four sections on the first attempt.
His secret to a great score on the Exam? Acting like a professional before actually becoming one.
"I treated studying like it was my job, beginning at 8 a.m. and ending at 5 p.m," he said. "I took a long break at lunch to re-energize and then studied for a few more hours in the afternoon. If I felt behind, I put in extra time in the evening or on the weekend.
"In my free time, I did my best not to think about the Exam at all. Establishing the divide between studying and personal time was crucial to keeping myself both motivated and relaxed throughout the process."