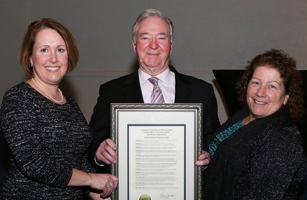 The VSCPA honored one of its most decorated members, former Virginia Sen. Walter Stosch, CPA, with a dinner reception at the historic Jefferson Hotel in Richmond on Jan. 18, with 147 VSCPA members, staff and guests in attendance.
The VSCPA hosted the event with Dixon Hughes Goodman — whose partner, Gary Thomson, CPA, served as master of ceremonies, calling Stosch "an unequaled leader" — and the VSCPA Past Presidents & Chairs. Fellow VSCPA members Greg Lawson, CPA, and Larry Samuel, CPA, recognized Stosch's service, while Elsie Rose, CPA, and Ellis Dunkum, CPA, gave special presentations. Following those speeches, VSCPA President & CEO Stephanie Peters, CAE, and Board of Directors Chair Lisa Germano, CPA, spoke and presented Stosch with a copy of the VSCPA resolution in his honor.
Stosch spoke after that introduction and reflected on his career. He retired at the end of 2015 after spending 33 years in the Virginia House of Delegates and Senate. He was the first Republican Senate majority leader in Virginia history and served as chair of the Senate Finance Committee. Before that, he was a partner at Glen Allen firm Gary, Stosch & Walls and served as partner at Deloitte after the firms merged.
He joined the U.S. Army after graduating from Warsaw High School on the Northern Neck, then graduated from the University of Richmond after being discharged.
They said it... 
"Thank you for your excellent example of being a CPA, being a servant and doing things the right way" — Gary Thomson
"It's been a good ride for me, and most of you in this room were instrumental in that ride." — Walter Stosch
"When we do our job well, we don't cost clients anything." — Elsie Rose, CPA, recalling one of Stosch's professional mantras
"I hope there's someone out there tonight who will pick up that mantle and represent us in public office." — Walter Stosch