February is diversity month at the VSCPA, and the VSCPA is spending the entire month spotlighting the contributions of our diverse membership. Our next spotlight member is Maria Canedo-Toledo, CPA, senior accountant at the United Way of the National Capital Area in Vienna.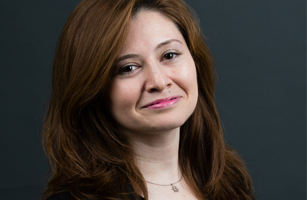 VSCPA: What led you to the accounting profession?
Maria Canedo-Toledo:  Although I was studying industrial engineering in Bolivia before my family decided to move to the United States, when I took a couple of accounting courses that were part of a certificate program and learned more about the profession, I realized that I enjoyed accounting and decided that I wanted to become an accountant! I also realized that as an accountant there were different paths that I could explore such as auditing, managerial accounting, tax return preparation, entrepreneurship, etc.
VSCPA: What do you find most fulfilling about your career?
MCT: What I find very satisfying about accounting is that, as accountants, we have the ability to provide useful information to individuals and organizations and help them understand and analyze such information so that they can make informed decisions that affect their day-to-day operations, employees, clients and ultimately our communities.
VSCPA:  Who are the role models and mentors have helped you the most in your life? In your career? 
MCT: My role model is my mother! She is a positive, hardworking, kind woman who always strives to do her best at whatever she does. With her example, she thought me the value of family, education and the importance of believing in yourself as well as caring for others. One of the most valuable lessons I learned from her is that one should never give up before trying!
 
I have also been very fortunate to have more than one mentor along my way:
One of my first accounting professors, Noel Montesa, CPA, who is the CFO at American Roentgen Ray Society and currently teaches at U.Va., has always been available to guide me and has encouraged me to achieve my goals!
Jose Quiroga, CPA, with whom I worked preparing tax returns and as a bookkeeper, thought me the value of sharing one's knowledge with others as he selflessly shared his knowledge with me.
Kevin Smith, CPA, who is the CFO at United Way of the National Capital Area and with whom has been a privilege to work with. He is not only a knowledgeable and experienced CPA, but a great leader who leads by example and from whom I learn every day!
VSCPA: How can the accounting performance ensure a diverse workforce in the future?
MCT: I believe that there is work that could be done in conjunction with Colleges and Universities, such as:
Promoting accounting as a high-value career choice by creating internship and career exploration opportunities to students
Creating programs that could increase the accounting scholarships available to minority students, as well as initiatives aimed at assisting minority students earn their CPA or other certifications