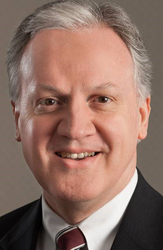 July is Culture of Learning Month at the VSCPA, where we focus on our VSCPA2025 bold strategy, "Create a culture of learning," and show how our staff and members are helping to drive our continuing education to a higher level through traditional and non-traditional learning opportunities. Our second spotlight member is Dave Cummings, CPA, CGMA, director of accounting and finance at the Allen & Allen law firm in Richmond and the 2019–2020 chair of the VSCPA Business & Industry Conference (BIC) Planning Committee. Read on for what he's learned from his involvement in planning VSCPA learning opportunities.
Personal perspective
Dave comes from a family of educators — his parents, his wife and his sister, as well as most of his aunts and uncles, were all teachers. He has observed that many children who learn to read early will develop a habit of lifelong learning. Dave observed that from the early days of the Chautauqua Institution, which first started promoting continuing adult education in the 1870s, the venues for ongoing specialized education have grown to become an essential part of persistent professional development. The value of continuing education is that professionals, like CPAs, can always expand on their existing knowledge base. "Even in today's data-driven gig economy, when so much information is literally at our fingertips, the benefits of focused formalized education can't be overstated," he said.
Educational involvement 
Dave said, "Even if it weren't required, I suspect that most CPAs would engage in continuing professional education." As the body of knowledge and experience grows, CPAs will want to ensure they stay updated on current topics. "The CPE requirements imposed by the Board of Accountancy help keep us accountable to standards that we generally appreciate and support anyway," he said.  "It's great to see seasoned professionals and young millennials sharing ideas and learning from and with each other at the annual BIC conference."
Future changes
The traditional methods of delivery will continue to be tested. Programs such as classroom lectures and conference speakers are still valuable, but there will continue to be more e-learning and online offerings available in the future. But, as Dave said, "just because it's on the Internet doesn't make it reliable." Broad access to information puts the onus on users to vet the source, and validate the information, to ensure it is of value. And conferences like BIC provide more than just great speakers and good content; the benefit of interacting with other CPAs who have experienced or are facing issues like what you are dealing with can be significant. "Some of the best info that I take home are the contacts that I make at a conference — people that I can call on to provide the benefit of their insight and experience," he said.