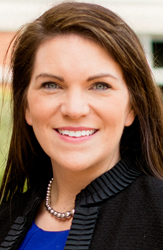 July is Culture of Learning Month at the VSCPA, where we focus on our VSCPA2025 bold strategy, "Create a culture of learning," and show how our staff and members are helping to drive our continuing education to a higher level through traditional and non-traditional learning opportunities. Our first spotlight member is Carman Faison, CPA, a senior manager at Mitchell Wiggins in Petersburg, a member of the VSCPA Accounting & Auditing Conference Planning Committee and a VSCPA seminar leader.
VSCPA: What led you to get involved in the VSCPA education process?
CF: Our firm, Mitchell Wiggins, has always encouraged volunteering with the VSCPA. One of our former partners, Paul Murman, was a member of the VSCPA A&A Conference planning committee. At his retirement party, I asked him who would be replacing him on the committee and he asked if I would be interested! It was an incredible opportunity to give back to the profession and help with such a prestigious event. I had spoken a few times at the event and attended several times and I was eager to be a part of the planning process. That opportunity allowed me to build relationships with the VSCPA staff that has led to other speaking engagements through the Society.
VSCPA: What specific perspective have you brought to the education process from your own experiences?
CF: Technology is changing very quickly in our industry. I try to keep up with the latest innovations and software used for accounting and auditing. Bringing that education to sessions in our events, whether it's data analytics software training or productivity apps, is very important to me.  
VSCPA: How has your involvement in the education process changed your view of the profession?
CF: I have always been in public practice. Being involved in the education process, I get to interact with a lot of people that are involved in industry. It helps me keep that perspective of a CPA on the "other side" of the engagement and how they are getting information on new laws and standards and the challenges they have applying it to their respective companies. Oftentimes I can take those challenges and better understand my own clients' challenges and opportunities. 
VSCPA: If you could make one change to the continuing education process — literally any change, with money, laws, standards and feasibility not being issues — what would it be? 
CF: Much more on-demand online training. There are so many great live classes and webinars I'd like to take, but they often don't work with my schedule. I'm hoping that technology will continue to increase where we can monitor attendance for CPE, but still be able to be flexible when classes are offered.