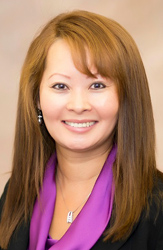 In December, the VSCPA is focused on preparing for tax season and spotlighting our members who work in tax! Our first Tax Practitioner Q&A for the month comes from Ravann Sowa, CPA, senior manager at Homes, Lowry, Horn & Johnson in Fairfax.
VSCPA: What made you decide to specialize in tax?
RS: N/A, since I specialize in both tax and audit.
VSCPA: How much did you know about busy season when you decided to work in tax? 
RS: I heard horror stories during college about how many hours you have to work when you start with (at the time) one of the Big Six firms. I thought the experience would be worth it, so I started my accounting career with one of them anyway.
VSCPA: How has your life changed based on the Tax Cuts and Jobs Act? 
RS: More planning opportunities for my clients.
VSCPA: What are your top three ways to stay sane during busy season?
RS: The three F's — family, friends and food.
VSCPA: What's your favorite part about being a tax professional? 
RS: Getting to know my clients on a personal level.
VSCPA: If you could change one thing about your job, what would it be? 
RS: The ability to have siesta time!