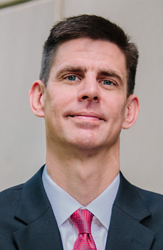 In December, the VSCPA is focused on preparing for tax season and spotlighting our members who work in tax! Our next Tax Practitioner Q&A for the month comes from Andrew Youhas, CPA, founder and managing principal at Youhas & Associates in Arlington.
VSCPA: What made you decide to specialize in tax?
AY: My first job out of college was at Hottel & Willis, P.C., a Winchester CPA firm offering tax and audit. As a first-year staffer, I got to practice in both areas. I quickly found out that tax research and writing was a lot more fun for me than auditing was.
VSCPA: How much did you know about busy season when you decided to work in tax?
AY: More than many!  Dad's career is in this business — public accounting, focused primarily on tax — and he wasn't around much between New Year's and April 15. So I knew much of what I was getting myself into.
VSCPA: How has your life changed based on the Tax Cuts and Jobs Act?
AY: My initial advice for most clients is "Don't change what you're doing." If we were basing estimated taxes on the 110 percent safe harbor, I left well enough alone. The updated withholding tables may have overadjusted downward, resulting in balances due. Time will tell.
VSCPA: What are your top ways to stay sane during busy season?
AY: Take Sundays off if at all possible.  For me, I try to focus on church and family, in that order. Regardless of what you do, "Sundays off" provides a reset — a chance to recuperate, physically and mentally. (By the end of many Busy Seasons, I've slept more than anything else on Sundays.)  I've worked at firms where Sundays were expected, and everyone starts to look it when they've been at the office for (say) 26 days in a row.
Also, Stay enthusiastic and positive — almost to the point of being corny. Enthusiasm is contagious — within the firm, and with its clients. Stay professional, but be positive.
VSCPA: What's your favorite part about being a tax professional?
AY: Using numbers to tell a story. Working with many different clients, regarding a wide variety of different topics. The conversation starts with tax, but can end anywhere from succession planning, to investment allocations, to setting up a business with a marketing plan, to life goals and how to make them happen. All from a tax return!
VSCPA: If you could change one thing about your job, what would it be? 
AY: I wouldn't change a thing.  Corny, I know, but this is the job I was meant for, and I absolutely love it.