With tax season coming up, the VSCPA is touching base with its tax practitioners to determine what makes them tick and what they'd like to see change in the tax field. Our latest spotlight is Andrew Lampropoulos, CPA, senior associate at CST Group, CPAs, in Reston.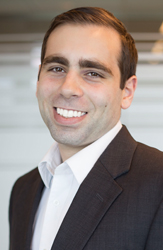 VSCPA: What made you decide to specialize in tax?
Andrew Lampropoulos: Coming out of college, I thought I wanted to be an auditor, I did not like my tax classes very much. My firm makes new staff do both tax and audit and I found, once I started working on the tax side, that it clicked and made more sense than it did in the classroom. It really makes work more enjoyable knowing that every day will be different. Tax returns are like a puzzle and each one comes with its own challenges.  

VSCPA: How much did you know about busy season when you made that decision?
AL: I knew it was going to be hard having to work a lot of hours and managing the stress that comes with busy season. After going through a few busy seasons, it is really not as bad as it is made out to be. The key is learning how to manage your time and getting your work done in an efficient manner.

VSCPA: What's been the biggest change in tax since you started your career?
AL: I haven't seen many changes. However, looking forward, I am interested to see how the new tax laws will influence my career.

VSCPA: What are your top three ways to stay sane during busy season?
AL:  My best techniques are:
Know that it's okay to take a break, (lunch, dinner, gym, etc.).
Don't stay as late on Fridays as you did the rest of the week. Get the rest — you will be right back in the office Saturday morning.
You don't have to get every tax return done before the deadline. They make extensions for a reason.
VSCPA: What's your favorite part about being a tax professional?
AL: My favorite part of being a tax professional is working with a variety of different clients and having the opportunity to learn something new every day.

VSCPA: If you could change one thing about your job, what would it be?
AL: he one thing I would change would be having those tough conversations with clients — for instance, telling them that they owe a lot of money in taxes. I know it comes with the territory, but never having to have those tough conversations would be nice.