By Stephanie Peters, CAE
VSCPA President & CEO 
As Women's History Month draws to a close, I think back on my time as president and CEO of the VSCPA and feel profoundly lucky. I've never encountered much in the way of resistance as I've risen to the leadership of the Society, and much of that has to do with women who walked that path before me. The true trailblazing women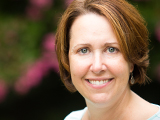 of the CPA and association professions came along years ahead of me, and it's because of them that I've been able to have the career success I've had.
Honestly, in my career, the gender gap has never been at the front of my mind. I've never had to think about it a lot. I've always felt that I had every opportunity. A lot of women had to persevere and take bold steps to break the glass ceiling, and I'll always be grateful that they made things easier for me. Things aren't perfect for women in the working world, but they're a lot better than they used to be.
Here at the VSCPA, we want to create an environment where women and men alike can maintain an active family life without sacrificing professional ambition. We value our staff greatly, and we work with those who have special circumstances.
We understand that people bring their entire lives to work and focus on providing a work environment of productivity under those circumstances. We want our employees to be present for their families as well as their job. I'm happy to be a beneficiary of that philosophy — I've risen through the Society's ranks while raising a child. I'm still doing that.
I've achieved everything I ever wanted in my career so far. I'm incredibly lucky to have had those opportunities, particularly in light of the women who didn't have the same chances. So many brilliant women persevered through discrimination in the workplace, and through not being respected for the work that they did. They fought to move our collective culture to a different place. The work I do today is a direct result of their efforts, and I appreciate that every day.