By Stephanie Peters, CAE
VSCPA President & CEO
I've got a few thoughts I wanted to put to paper as Nonprofit Awareness Month draws to a close. One is, as always, an appreciation for the volunteers that help the VSCPA function, improve and innovate year after year. Another train of thought involves how you can benefit from volunteering, whether with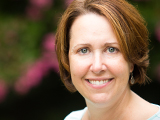 us (which we love!) or with another nonprofit organization. At its best the volunteer-organization relationship is truly symbiotic, helping the volunteer grow as a professional and a person while providing the organization with the governance it needs.
Volunteering helps careers by getting people out of their comfort zone. You're outside of your own organization's well-traveled paths, norms and practices. You're working closely with professionals from other employers and professions, gaining valuable experience with how other organizations operate on a governance level. In short, it's helpful to see how other people do things.
Getting out of your comfort zone is how you develop as a leader. That's where the biggest growth opportunities lie. You can see where your own strengths and weaknesses lie, where you can contribute and make a difference. You can bring ideas from your own office (or your own ideas that, while promising, may not have been the best fit for your employer). You get plenty of experience you wouldn't have gotten without trying something new, and you're helping others in the process.
Volunteering with nonprofits helps you, your staff and your organization grow. It's a low-stakes way of seeding new ideas into your own organization and keep your career from growing stale. We'd love to have you volunteer with the VSCPA, but if you're looking for new experiences, take time to find somewhere to help. You'll be glad you did.