By Stephanie Peters, CAE
VSCPA President & CEO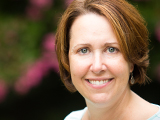 Volunteer service is a hallmark of the CPA profession. CPAs have a well-established reputation as trusted financial advisers, to the point where just about every CPA has a story of being approached to do someone's taxes (whether or not he or she actually works in tax). That extends to the well-established path of volunteering in audit or finance for nonprofit organizations as a way to give back to the community.
As it just so happens, the VSCPA is one of those organizations that needs help from CPA volunteers, even outside of those traditional CPA roles. Our members run the Society, represent us publicly and allow us to speak with authority with government organizations and standard-setters. They fill the pages of our publications and help us plan the learning opportunities that keep CPAs up to speed on the latest professional developments. In short, volunteering with the VSCPA is a way to give back to the profession that provides such vital services to Americans.
Volunteering with the VSCPA benefits the volunteers, too. It's a great way to gain skills in collaboration and working with other people. Communications skills, leadership skills, how to deal with different personalities — VSCPA volunteering can help with all of these. You can see how others do things and bring valuable insights back to your employer. It benefits you and your firm or company.
You can find opportunities through our Volunteer Manager system, searchable by level of expertise needed, time commitment, geographic location and many other options. Truly, there's something for everyone. If you're already a volunteer, encourage someone who might be on the fence to take the leap. If you're new yourself, what are you waiting for? You'll be surprised at what you can learn.