By Stephanie Peters, CAE
VSCPA President & CEO 
Service is a bedrock value for the accounting profession, the CPA credential in particular and the VSCPA as a whole. CPAs exist to serve the public by providing unbiased facts about how businesses, citizens and governments spend their money. Public service is a fundamental part of organizations like the VSCPA. It's part of who we are.
VSCPA members serve the public in a variety of ways. One is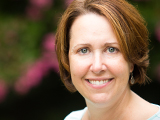 through their VSCPA membership — the combined power and knowledge of more than 12,000 members allows the Society to maintain a robust, effective advocacy arm that lobbies for business- and budget-friendly legislation at the Virginia General Assembly. Another is through volunteer work for various nonprofit organizations, from the VSCPA itself to local groups and charities. And a third comes at the end of this week, when CPAs across the Commonwealth will join forces and get their hands dirty on CPA Day of Service.
The 2016 edition of this annual volunteer event is set for this Friday, Sept. 23. In past years, VSCPA members have volunteered for a diverse array of causes and groups, including animal shelters, local parks, charity drives and food banks, to name a few.
In one memorable example, Susan Roher, CPA, of Virginia Beach sat with a turtle nest at Back Bay National Wildlife Refuge, protecting it from predators and helping turtle hatchlings reach the ocean. CPA Day of Service is an opportunity for VSCPA members to get out in the community and spend time helping the communities where they live and work. It shows the public who we are as people, putting a human face on a group that's too often dismissed as number-crunchers who sit behind desks all day.
Members like Susan Roher make the VSCPA stronger by finding creative ways to serve the community. But the truth is that VSCPA members help the public every day they show up to work. We highlight our members' service-minded natures one day each year, but you're constantly helping your communities with your diligent financial oversight. We hope you take the time to take stock of what you do for your friends and neighbors, and we want to celebrate you and what you do through this service event. You've certainly earned the recognition.