By Stephanie Peters, CAE
VSCPA President & CEO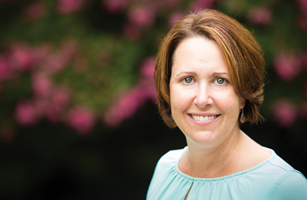 At the VSCPA, we pride ourselves on building a strong corporate culture and embracing trends to be an innovative workplace of the future. We care about our employees and give them the tools to succeed and build happy lives. One of those tools is flexible working arrangements, which have transformed from a successful (and ongoing) telecommuting program to two full-time remote employees. That leads to the question: How do we make sure they feel connected to the VSCPA? 
Vice President, Innovation Tina Bates, CAE, was our first remote employee, having worked remotely since moving to South Carolina several years ago. Our other remote employee is Partnership & Event Specialist Veronica Boyett, who works out of her home near Charlotte, N.C. Tina has been with the VSCPA for 19 years and Veronica had previously worked in the Richmond office before stepping back for a few years, so it was an easy call to keep them in the fold. 
It hasn't been hard to keep Tina and Veronica engaged because of their personalities and history with the VSCPA. But a big part of it has been giving them and all of our telecommuting employees the technology they need to be connected virtually. We use a tool called Zoom and all of our meeting rooms are equipped with the video cameras so they participate in meetings and know they're present. It also creates a sense of connection, teamwork and enhances communication. Both Tina and Veronica spend time in the Richmond office as needed or attend meetings required for their position. That's crucial in building the personal connections we need to succeed.  
Remote working is a major part of our culture at the VSCPA. It enhances our culture of innovation and trust and helps us attract and retain high-end talent (like Tina and Veronica). Flexible working arrangements allow our employees to do what they need to do at home while still getting their work done. They're judged on results, not face time at the office, and that has boosted productivity and morale. 
At the end of the day, the key to our success with remote workers (other than hiring dynamite employees we trust completely) has been treating them like our other employees. The expectations are the same as they were, and they know that. We don't delay things until they're in the office. Having Tina and Veronica a few hours south has been mostly the same as having them here in Richmond, and that's a credit to them and to our planning and policies.