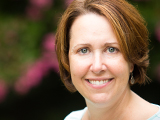 The VSCPA is focused on government and nonprofit themes this month, and it's a timely topic given the assignment I'll be taking on in less than two months. When the calendar turns over to the new year, I'll begin a two-year term as chair of the Virginia Council on Economic Education (VCEE). It's an organization that dovetails nicely with the VSCPA's financial literacy aims, and we worked closely with them for years (with help from the Virginia Bankers Association) to pass Virginia's economics and personal finance high-school graduation requirement that went into effect for the class of 2015.
With the requirement established, the VSCPA continues to protect it from legal challenges and provide volunteers to train educators on financial literacy issues. Having put so much work into establishing and protecting the requirement, we're committed to making sure those teaching the course have the training they need.
We're also heavily involved with the Jump$tart Coalition for Personal Financial Literacy in Virginia. It's an organization we were heavily involved in launching — VSCPA Vice President, Innovation Tina Bates, CAE, was its first chair and remains heavily involved, along with Public Affairs & Communications Director David Bass. It's all part of our effort to protect the financial health of Virginia's citizens. We're always on the lookout for new partnerships to enhance our support of that effort.