By Stephanie Peters, CAE
VSCPA President & CEO  
The 2017 edition of CPA Assembly Day was a huge success, with 55 VSCPA members and staff visiting legislators at the General Assembly. We rely a great deal on members offering expert advice to legislators on how to vote on matters that affect the profession.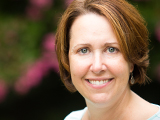 We think it's important enough for you to know how we arrive at the legislative decisions we make.
You can dive into our advocacy philosophy and guiding principles here, but the main takeaway is that protecting the CPA credential and its licensing process is the top priority in our legislative agenda. From there, we look at items that may be more tangentially related to the CPA profession and areas where we can weigh in with expertise. We help lawmakers make decisions on these issues with the greater good in mind.
One particular area where CPAs are often asked to weigh in is in the area of taxation. We utilize the member experts on our Tax Advisory Committee when assessing tax-related legislation. They play an extremely active role behind the scenes and don't often get the proper credit for their contributions. Our Executive Committee, consisting of me and the VSCPA Board of Directors chair, chair-elect and vice chairs, makes all final policy decisions, often within 24 hours.
We have staff at the General Assembly throughout session communicating our views, whether during official committee meetings or through meetings with legislators. We reach out to specific subject matter experts as needed on issues such as land preservation and historic rehabilitation tax credits. We rely heavily on our members to serve as experts during a time that's already extremely busy for many of you.
We also make use of outside experts, including those at the American Institute of CPAs (AICPA), the National Association of State Boards of Accountancy (NASBA), and other state CPA societies that have dealt with similar issues. We often consult with large firms and their legislative staff, as well as hired counsel at Richmond law firm Williams Mullen. We maintain these relationships at the local, state and national level as part of our mission of protecting CPAs' interests.
We also rely on our members to alert us to any issues you spot. If you find anything that concerns you, even outside of session, contact us. Your efforts help us achieve positive outcomes and avoid negative ones for the CPA profession as a whole.