y Stephanie Peters, CAE
VSCPA President & CEO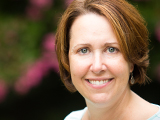 Relationships are more important than ever for VSCPA advocacy efforts, and the recent passage of tax conformity legislation is a perfect example. The 2018 conformity bills took several twists and turns in response to federal legislation, and the VSCPA's strong reputation and relationships were instrumental in educating legislators on what the bill did and did not do.
This year is a notable year in the General Assembly because of the large degree of turnover in the House of Delegates. The majority of the House has less than four years' tenure in the legislature, with 19 freshmen delegates this year alone. Grassroots relationships are the easiest, most effective way to help those newcomers understand the profession, understand issues important to CPAs and know and trust the VSCPA.
A big part of that is members engaging at the local level, in or out of election season. The engagement process is important all year long in legislators' home districts. If we show up at meetings and get to know legislators, it will pay dividends in the long run. It's easy to become active at the local level — you can sign up for your legislators' newsletters and tune into what they are doing. You can attend local events and visit legislators' offices to introduce yourself — let them know you're a CPA and have many resources to help them perform their job effectively.
Contributing to the VSCPA Political Action Committee (VSCPA PAC) also is a great way to engage in the relationship-building process. The VSCPA PAC is important because having the entire profession in Virginia behind monetary contributions is more impactful for the profession than personal contributions. And, PAC contributors have input on the PAC contribution plan and whom we contribute to.
The more members are involved in the PAC, the more we can initiate and grow relationships with legislators. Member involvement allows us to have a presence at the local level. That kind of grassroots involvement will pay dividends in the future for the profession.