By Stephanie Peters, CAE
VSCPA President & CEO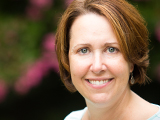 Three years ago, the American Institute of CPAs (AICPA) commissioned a study to determine the most important factors that determined whether or not accounting students became CPAs. Three important factors stood out in the results:
A CPA culture on campus
An employer that encourages employees to take the CPA Exam
The specialized accounting major
I'd like to focus on the first of those today. A strong CPA culture is a critical factor in whether or not an accounting student continues through the pipeline. CPA culture can take many forms: Professors who hold the credential, presence of recruiters on campus, strong preparation for the CPA Exam. It all adds up to the expectation that accounting students can set themselves up for career success by becoming CPAs.
The AICPA study classified campus recruiting as a workplace issue because it represented employers encouraging students to become CPAs, but it fits just as neatly into a campus CPA culture. When universities bring firms to campus to talk to students, they learn more about the possibilities the credential offers. Why is this career so promising?
Another factor in a strong CPA culture is professors who promote the credential. I'd like to highlight one of our own Virginia universities that does a particularly great job promoting the CPA: James Madison University (JMU) in Harrisonburg. JMU focuses on professionalism with its students and puts them in contact with CPAs, with a particular focus on CPA Exam preparation in the form of its CPA Boot Camp program.
CPA Boot Camp is a summer program popular with students who have just completed their master's degree at JMU. It's a condensed Exam review course taught by JMU faculty, with four days of review and three days of study. Many Boot Camp students sit for the Exam immediately following a section of the review, and most complete the entire Exam by the time they start work in the fall.
That kind of intensive study requires supportive employers as well as a strong campus CPA culture. But it all adds up to remarkable success for JMU. It's a rare exception when a JMU accounting major does not sit for the CPA Exam, and the school's campus culture has become self-sustaining.
As JMU accounting professor and VSCPA member Molly Brown, CPA, put it, "We view our students as our brand. We do have a rigorous program because we want students to perform well when they get into the job market. They are the best advertisement for the program."
That kind of department-wide focus on the CPA credential is our universities' best way to keep students in the CPA pipeline. That said, Virginia is full of great accounting programs that do a great job preparing students for the CPA Exam. I've met many great faculty and deans on campus visits with Molly Wash, CAE, our academic engagement director, and I've met others who need and welcome our support. The VSCPA is here to support our colleges and universities in any way we can!