By Stephanie Peters, CAE
VSCPA President & CEO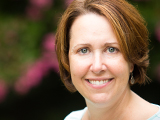 "Create a culture of learning" is one of the four bold strategies introduced by the VSCPA as part of its VSCPA2025 strategic framework rolled out last year. While embracing new modes of delivery and encouraging social learning is a major part of that, there remains a major role for traditional, instructor-driven education. It's all part of getting our members the knowledge they need to remain relevant in times of disruption, and I want to shed some light on our thought process.
We're always trying to stay up on trends and create awareness of what's happening in the profession with our members. We spend time continuously scanning the environment, reviewing changes from governing bodies, talking to members and subject matter experts, and looking at national and international trends.  As topics emerge, we determine what a "hot topic" is and what members need to know about it, then look at how the content should be disseminated.  We determine if a 2-hour webinar is most appropriate, or a 1-hour session at a conference or an in-depth 8-hour workshop. 
Our in-person and virtual Professional Issues Updates, where we inform our members on big trends, are a big part of that. We attempt to strike a balance between what critical information our members need now and what they need to know for the future. We provide these events free of charge, along with a variety of other complimentary CPE ($750+ value) throughout the year, to ensure you have access to hot topics, leadership development and other future-forward education.
Peer learning is another key focus for VSCPA learning. This includes the Management of an Accounting Practice (MAP) events, the Top Firms Roundtable and the CFO Roundtable. During this kind of program, the VSCPA plays more of a facilitation role, where we guide the discussion but don't drive the direction.  These are events designed for the practitioner to learn from their peers, not from a paid expert. 
The takeaway here? The VSCPA is committed to infusing learning into all of our activities to enhance your skills and competencies, and elevate your ability to provide the highest value, influence and impact today and in the future. Our brand-new Technology Showcase, coming to Richmond on Oct. 24, is a key example of ensuring you're future ready. How can we tell you what you need for your business now while also preparing you for the future?
A thriving profession will require continuous learning, development and growth among all CPAs. We have a wide range of events and resources to help you deal with the sweeping change that's hitting the profession, including our new leadership podcast, VSCPA Leading Forward. The future possibilities for the CPA profession are endless. That bright, wide-open future is a big reason we framed our strategy the way we did, in terms of a culture of learning. By leading the way for our members through countless learning opportunities, we can keep you current on what you need today while ensuring you're ready for whatever the future holds.