By Stephanie Peters, CAE
VSCPA President & CEO 
An under-the-radar VSCPA tradition celebrated its 11th iteration last night as Virginia Business magazine announced the winners of the Virginia CFO Awards at the Jefferson Hotel in Richmond. The VSCPA has sponsored the annual awards, which honor the top CFOs in the Commonwealth in several business categories, since they began.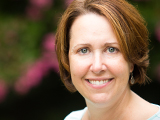 CFOs are, of course, the highest-profile members of a group that makes up more than  a quarter of the VSCPA's membership. This group, which also includes controllers and other finance professionals, hasn't always been as easy to reach as members in public accounting.
It's not for lack of trying — the VSCPA offers a wide-ranging suite of CPE opportunities for members in corporate finance, including the annual Business & Industry Conference, held last month in Williamsburg. But it's not always as easy to show accountants in corporate finance that the VSCPA is working on behalf of them, too. Witness last year's awards ceremony, where just one of the five winners was a VSCPA member (Lori Overholt, CPA, CFO of VSA Resorts in Virginia Beach, in the small private company category). Last night's results were better, with VSCPA members René Chaze, CPA, and Julie Hovermale, CPA, taking home hardware. But we can do even better than that.
The Virginia CFO Awards are part of the VSCPA's efforts to reach CPAs working in corporate finance. The event honors financial executives whose innovation and dedication have led to success for their companies and communities. Our sponsorship shows that we value the work CFOs perform and recognize the success they can bring to a company.
There are two ways to get more VSCPA members onto the stage at the Virginia CFO Awards, and we'd like to see both come into play. One, of course, is for more CFOs to join the VSCPA. We've got incredible educational opportunities to help CFOs hone their accounting and finance skills and stay on top of best practices, and our membership provides an incredible network of accounting peers that might not always be there for members who work outside public accounting — a network that grows stronger and more useful with every accomplished CFO who joins.
The other is for VSCPA members to take the steps necessary to be considered for a Virginia CFO Award. Even a nomination — to say nothing of becoming a finalist or winning the award — shows that you're truly one of the best of the best at your job. We're thrilled to continue supporting this program and honor the best CFOs Virginia has to offer. But we'd be even more thrilled if VSCPA members made it a clean sweep at the CFO Awards. Whether your opportunity lies in joining the best network of accounting and finance professionals in Virginia or taking the steps necessary to be considered for this prestigious award, we want to celebrate you and your vital work.