By Stephanie Peters, CAE
VSCPA President & CEO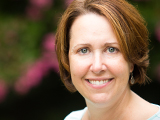 As Women's History Month draws to a close, let me start by saying this: I feel like I've been lucky in the workplace, and a lot of that has to do with the timing of my career. My generation wasn't responsible for breaking the glass ceiling. The women CPAs (and women in other industries) from the generations before my own were the ones who had to struggle. They're the ones who had to change the culture. Their tireless work pushed the workplace forward to a place where no one bats an eye at a woman CEO, and I've benefitted from that.
That's not to say I didn't have doubts about how I would be received when I was named to replace Tom Berry as the VSCPA's CEO. (I should point out that I wasn't the first woman to lead the Society — that honor goes to Pat Koontz, who was executive director before Tom took over.) Physically, Tom and I couldn't have been more different — he was a tall, older man, while I was a short, younger woman. While I had faith that our members would accept me, I wondered how I would develop the presence and gravitas that Tom had.
As it turned out, I didn't need to worry. The members responded to me as positively as I could have envisioned. The same traits that led the search committee to choose me as CEO — knowledge and passion for the accounting profession, eagerness to engage with members, transparency in communications and an open-door accessibility— resonated with the rest of the membership as well.
So Women's History Month has me in a contemplative frame of mind. I'm filled with awe and appreciation for the groundbreaking women who came before me and created an environment where I could rise in my career and be accepted without question. While there's still work to be done to get women on true equal footing with men, it's important to honor the women who have gotten us to this point.
One way we can do that is by building woman-friendly workplaces, and I think that's the case here at the VSCPA. It's reductive and a little retrograde to discuss work-life balance issues largely in the context of women, but the fact is that American women do bear the largest responsibility in child-rearing and other family caregiving. We've been cognizant of that fact in setting workplace policies that enable all employees to fulfill their duties while still doing right by their families.
Our male employees benefit from this as well, whether or not they have children, but our staffing strategies have been especially effective in allowing us to retain talented women. Between myself and our vice presidents (all women), we have 10 children and another VP who lives out of state to be with her new husband. Frankly, if we didn't have the policies we do, I don't know that all of them would still be working here. Family-friendly policies have allowed us to hold onto a lot of successful staffers who have grown in their positions. They have been central to building and retaining our talented, dedicated staff.
So for Women's History Month, I'd like to take time to recognize all of our female members — including current Board of Directors Chair Lisa Germano, CPA, and her immediate predecessor, Colette Wilson, CPA — as well as the amazing women who make up the lion's share of the VSCPA staff. And I want to recognize the women who understood that they deserved better and had the courage to fight for change. I wouldn't be where I am without them.