Stephanie Says: Growing in Your Career With VSCPA Leadership Opportunities
By Stephanie Peters, CAE
VSCPA President & CEO 
We introduced our LEAD initiative in the May/June issue of Disclosures and at last week's Leaders' Summit in Williamsburg,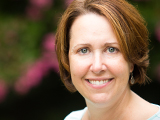 and the response so far has been overwhelmingly positive. What we're hearing is that strong leadership   is critical for the future of the profession and the VSCPA can and should play a significant role in developing our future leaders. LEAD is designed not only to foster a community of thought on leadership issues, but also to offer an all-encompassing suite of educational offerings, communications and other ways to develop leadership skills.
Another area where we can help drive leadership development is in the volunteer leadership opportunities we offer here at the VSCPA. There are numerous opportunities to help drive VSCPA programming and activities, through committees and boards both public and behind the scenes.
I can go on all day about the amazing work our volunteers do. But it might be more instructive or inspiring to hear from our members directly. Stephen Kimberlin, CPA, is a manager at Dixon Hughes Goodman in Glen Allen and serves on the VSCPA's Young Professionals Advisory Council (YPAC).
"Within firm meetings, I'm the one proposing ideas, some of which I get from YPAC meetings and involvement," he said. "It allows me to be vocal and propose ideas that are incorporated into our firm's structure and strategy."
Niki White, CPA, of Strategic Risk Associates in Richmond, is a member of the VSCPA Board of Directors and has served in the Richmond Chapter and on the VSCPA Educational Foundation Board of Directors, to name a few of the many ways she's helped the Society and the profession. Here's what she has to say about how her VSCPA volunteer work has helped her grow as a CPA and a leader:
"What I really strive to do is to give back more than I got, and I have failed. I have gotten back so much more than I put in, because it continues to grow, and continues to expand."
We'd love to have you involved in our leadership opportunities or any of our other volunteer offerings! Visit the LEAD website to learn more about how you can get involved.