By Stephanie Peters, CAE
VSCPA President & CEO  
CPAs have much to celebrate this holiday season. Revenues are up at firms across the country and throughout Virginia, from small practitioners to the Big Four. Business is good for the profession.
Even the problems and sources of uncertainty facing the profession — ensuring a steady supply of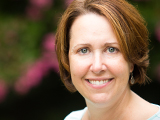 accounting graduates to fill the CPA pipeline as practitioners age out — indicate services that will remain in demand for the foreseeable future. Based on my visits to firms in rural areas of the state, even those firms located away from major population centers have more business than they can handle.
Even disruptive changes to the profession come with opportunities to change things for the better. The machines are moving into accounting firms, with large firms experimenting with artificial intelligence (AI) along the lines of KPMG's partnership with IBM to use its cognitive supercomputer, Watson. While some lower-level accounting and auditing work will be absorbed by AI in the future, CPAs can maintain their relevance and provide major value for clients through in-depth analysis and advisory services.
This growth area — cutting through data to garner strategic analysis — applies to all CPAs, from public accounting to corporate finance and beyond. The hallmarks of the credential — integrity, objectivity and trustworthiness — make the CPA the ideal source of unbiased financial insight. Our candor and honesty as we move to new services will help us maintain the reputation set by the professionals who came before us and built the CPA brand. Our expertise and ability to learn new skills will be the value and reputation we pass on to future CPAs.