Stephanie Says: Fiscal Responsibility in the Public Sector
By Stephanie Peters, CAE
VSCPA President & CEO 
August is Public Service Month at the VSCPA, when we spotlight our members who have taken on roles as elected officials and civil servants in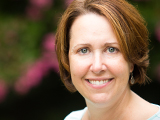 order to make Virginia a better place to live and do business. It's an interesting time for the CPA profession in politics as it deals with relatively low numbers in Congress and in state legislatures (including Virginia's, which lost its only CPA legislator, former Sen. Walter Stosch, CPA, when he retired at the end of 2015).
Like many groups, the VSCPA has quoted chapter and verse about the perilous path our nation's increased debt represents. Governments at all levels face the need to restructure and become more nimble and accountable or risk running up further debt.
CPAs are the natural professional group to lead that effort. They are well versed in telling businesses hard truths instead of what they want to hear. CPAs can increase transparency and accountability in financial reporting and public spending. They can leverage their credibility as trusted advisors to make the necessary adjustments.
That's the role of the most CPA-heavy department in the Virginia government, the Auditor of Public Accounts (APA). This department, headed by VSCPA member Martha Mavredes, CPA, is tasked with increasing accountability in public spending, and its employees fulfill that mission admirably, with trust and rigor.
However, the APA doesn't control the purse strings. That falls to the General Assembly — which, as previously noted, is now down a CPA from recent years. It's vitally important that the Commonwealth elect more CPAs to public office to help stop the bleeding of runaway spending. Listen to what Walter Stosch had to say about how his CPA background helped him in the General Assembly:
"I've had an opportunity to work closely with members of the House and Senate over the years, and I've done everything I can to help them understand complex financial matters and tax matters. That has allowed me to develop a certain reputation and relationship with the other members. Any of our colleagues could do the same."