By Stephanie Peters, CAE
VSCPA President & CEO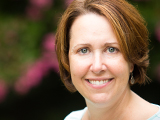 "Whenever you are to do a thing, though it can never be known but to yourself, ask yourself how you would act were all the world looking at you, and act accordingly."
I've kept a small, laminated copy of this Thomas Jefferson quotation for 20 years, through multiple jobs and multiple employers. It's still sitting on my desk at the VSCPA's offices. It still resonates with me when I have a tough decision to make. Even after I've established myself in the professional world, I still need that reminder of the principles that guide my decisions every day.
Where this ties into your life as a CPA is through professional ethics. Ethical behavior is a cornerstone of the accounting profession. CPAs are correctly billed as trusted advisors on all financial matters — the entire profession is built on objectivity, fairness and competence. You can't fulfill that without a strong adherence to a code of professional ethics.
The American Institute of CPAs (AICPA) takes CPAs part of the way. Its Code of Professional Conduct exists to help you sort out tough ethical issues that arise over the course of performing your job. But while it can help you get past ambiguous issues, correctly applying the Code requires professional judgment on your part.
That's why true ethics come from inside. The AICPA Code and its related resources, as well as the VSCPA's Ethics Committee — to say nothing of the Virginia-specific Ethics course — are part of a well-prepared CPA's ethical toolbox. But ethical behavior starts with commitment to, and continual focus on, a personal code.
Ethical behavior befitting the CPA credential requires true vigilance. You can't let your commitment slip. It's not easy to have that discipline and continually apply your code of ethics when making difficult choices. But if you wanted an easy, ineffectual job, you're in the wrong line of work.