By Stephanie Peters, CAE
VSCPA President & CEO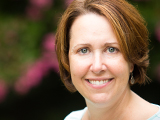 The VSCPA makes it a point to focus on the technologies and practices that will define the future of the CPA profession. In the past couple of years, that's become more of a focus with the launch of our VSCPA2025 strategic framework, which includes the strategy, "Drive innovation and vision." Since then, I've presented on the topic, and our members have touched on various related topics at other events.
Recently, that's taken the form of a presentation from member Jim Brackens, CPA, vice president of ethics and practice quality at the American Institute of CPAs, who ended his Virginia Accounting & Auditing Conference (A&A) presentation with the following mantra: "Think different, be bold, move fast." This is exactly what we must do to achieve our vision "to be known for our dynamic culture of innovations and visionary leadership." The VSCPA is committed to providing members the tools and training needed to make this vision a reality by 2025.
One key topic is data analytics, which we've discussed at length in our communications and learning events, from a Disclosures article on data analytics education to an informative session at our A&A conferences. We're also focusing on the intersection of audit and artificial intelligence as part of our efforts to focus our members on innovation and vision for the future of the profession.
We'll be sharing this information in other ways, because we want all our members to take the time to learn about these fundamental changes to the profession and where their colleagues see opportunities in the areas of services and technology. Stay tuned for further communications and presentations on key technologies as we focus on helping all our members navigate toward a bright future.