By Stephanie Peters, CAE
VSCPA President & CEO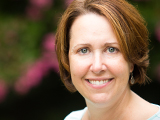 Leadership training and succession planning are becoming more important than ever in the CPA profession, and the VSCPA is as aware of that as anyone. We've made this issue a focus in our upcoming strategic planning process, with some big new projects coming to the forefront as soon as the next few weeks. (More information on that to come!)
One major program related to leadership development, however, has been in place for a year now. In 2015, we launched MentorMatch, a program aimed at matching new, upwardly mobile professionals with professional mentors to give them guidance, support and advice in their career development.
MentorMatch was built on ideas and principles that had been in place for some time, but it really took hold through the leadership of former VSCPA Board of Directors Chair Colette Wilson, CPA, in 2014–2015. Wilson has written on the importance of mentoring in her own career and took it upon herself to serve as a mentor for a young VSCPA member, Aaron Rawlings, during her tenure as chair. MentorMatch was born from that experience.
The results have been promising so far. The VSCPA has matched 43 new professionals with CPA mentors, and we're working diligently to meet significant demand, with 110 mentees and 60 mentors having signed up since the program's launch. (We're always taking more of each!) You can read about one of those relationships, between mentor Beth Berk, CPA, and mentee Nidia Cruz, CPA, here and here (in that order), and we'll have an update on their productive relationship in the coming weeks.
I want to thank all of the seasoned CPAs and young professionals for their hard work in launching and sustaining the MentorMatch program. We're thrilled to be able to provide this venue where our members can share their experiences and pass along the lessons they've learned. And I urge anyone who has insights to pass along to sign up as a mentor. MentorMatch relationships are a thread that connects the distinguished past of the profession to its promising future. I hope you'll connect your own thread.