By Stephanie Peters, CAE
VSCPA President & CEO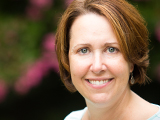 Donald Dodson, CPA, is stepping down from the Virginia Council on Economic Education (VCEE) executive committee, and it's a big problem. Dodson, a VSCPA life member and retired partner at Deloitte who now resides in Asheville, N.C., has been on the committee for a long time — I've served with him the past few years — and I can tell you it's going to be extremely tough to replace him. When he heads down to the North Carolina mountains for good, he'll take with him all the financial knowledge he brought to the position.
From financial reporting to the best way to allocate assets to simply keeping the organization afloat, Donald's expertise has been key to the VCEE's success ever since he came aboard. But just as important is the trust that he engendered in those who work with him. While Donald's particular blend of skills and personality can't be replicated, the good news is that there's a population of Virginians who possess the skills to step into his shoes. And you're one of them.
CPAs bring a great deal to the table as nonprofit volunteers. In addition to their general financial acumen, they understand financial reporting and the appropriate way to approach internal controls. If an organization relies heavily on volunteers and has little continuity in defined roles, CPAs are naturally suited to create such a structure.
VSCPA Board of Directors Vice Chair Vicki Jones, CPA, has been both a volunteer and a staffer at nonprofit organizations. She worked in leadership at two Charlottesville-area nonprofits — the University of Virginia Law School Foundation and the Thomas Jefferson Foundation. As she puts it, "To me, accounting is its own language.  Financial statements and information are written in the accounting language. The CPA becomes a "bridge" to translate and explain what is written in the financial statements to the board and management."
So if you're looking for a way to hone your leadership skills, improve your resume or give back, volunteering with a nonprofit is a great way to do that. Thanks to all our member volunteers here at the VSCPA!