By Stephanie Peters, CAE
VSCPA President & CEO 
Our member needs are first and foremost whenever we plan our CPE offerings, and next month's KnowledgeNOW conference is no exception. With existing conferences covering current trends in public accounting (the Virginia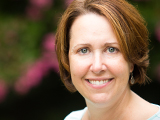 Accounting & Auditing Conference) and corporate finance (the Business & Industry Conference), the most glaring hole we saw in our conference strategy was in a forward-looking, relevance-driven offering. That's how KnowledgeNOW came to be.
KnowledgeNOW, formerly the Professional Development Conference, is future-driven, from a look at the VSCPA's future strategies to the effects of the changing economy on the profession. It's holistic, with sessions covering how the global economy relates to the profession and how information technology advances will impact your firm. In some cases, it's technical (integrating new fraud risk guidelines into your data analytics), and in other cases, it's decidedly not (ways to channel stress for a more balanced life). It's professional development, for every one of our members.
We're thrilled with the lineup of speakers and topics we've put together. The conference committee, chaired by David Cotton, CPA, has built a strong event in every way. In fact, David is invested to the point that he's leading a session on fraud risk and sitting on an economic panel. There's still time to register for the event, and you'll even get a discount if you register by Friday. I hope you'll find the time to join us and learn what our most out-there conference is all about.