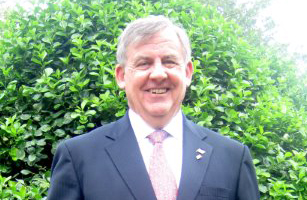 Step into the conference room at Renner & Co. in Alexandria and you'll probably do a double take. In the corner, there's a cutout of the firm's founder, John Renner, CPA, and it's not the only one in the office. Renner's colleagues joke about using the cutout for public appearances when the man himself is just too overscheduled.
Like any good joke, it's funny because it has the ring of truth. Renner is Mr. Alexandria — when the VSCPA visited Renner & Co. to get material for this profile, Bill Euille, the city's mayor, carved out time to stop by and offer a few words. It's that kind of civic involvement and dedication to the profession that makes Renner the VSCPA's 2015 Outstanding Member of the Year.
Renner's CV — along with that of his wife, fellow Renner & Co. partner and VSCPA member, Joan — could double as a refresher course on the major players in the Alexandria community. The couple's joint highlights include:
Honored as Living Legends of Alexandria in 2010
Rotarians of the Year honor in 2009
The only husband-and-wife duo to have both served as chair of the Alexandria Chamber of Commerce
But that's just scratching the surface of John Renner's devotion to his city, his company and his profession.
"His passion for the city and for the citizens is just remarkable," Euille said. "He probably is more engaged and attends more community events than I do as mayor, and my schedule is full 24/7."
Renner has been on Alexandria's Budget and Fiscal Affairs Advisory Committee for the past decade and currently serves as chair. He's a vice president of the Northern Virginia Community College Foundation and a member of the Alexandria Rotary Club's board of directors. He's president of the board at Ivy Hill Cemetery and serves on the Accounting Advisory Committee at his alma mater, Virginia Tech.
Despite all his investment in Alexandria, what many don't know is that Renner wasn't actually born in the city, but across the border in Arlington.
"Everybody thought I would never move out of Arlington," he said. "I was entrenched in Arlington. I grew up in Rosslyn before it was what it was today. Rosslyn was the pawn shops and the gravel pit and the construction yards. It was a playground my mother didn't know much about. "
After graduating from Virginia Tech, Renner returned to Arlington to accept a job with Murray, Jonson & White. He made the move to Alexandria in 1978 to work for Minter, Morrison & Grant, and he never left.
"It gets into your blood," he said. "…I just enjoy giving back to the community. I have a hard time saying no."
Renner got involved in VSCPA volunteering early in his career after meeting Tom Berry, then the Society's CEO. He started off with the VSCPA's Northern Chapter, then moved on to chair the Public Relations Committee before working with the Legislative Affairs, Professional Ethics and Professional Development Conference Planning committees. He also spent three years on the VSCPA Board of Directors and, more recently, spent a year on the VSCPA Educational Foundation's Board of Directors.
That last volunteer gig aside, Renner mostly stepped away from VSCPA volunteering in the mid-1990s to focus more on his local projects.
"I got involved in the civic things because the city was so good to us," he said. "When you give back to people who help you, it comes back to you in spades."
His giving back doesn't end with those charitable endeavors. A significant portion of his firm's business comes from nonprofits, and they do those audits at a discount rate. And Renner also stresses putting non-accounting-savvy clients at ease with understandable explanations of financial issues.
"We may be calling something by a technical term. The client might be talking about something else, and everyone has a deer-in-headlights look," he said. "You have to listen and try and figure that out."
Recently, that has taken the form of dealing with Alexandria's high business and professional license (BPOL) tax. As chair of the city's budget committee, Renner is tasked with explaining the ins and outs of the BPOL tax to an audience of laymen, but he downplays the value of his expertise.
"I don't walk on water," he said. "If you know the numbers, listen to what somebody has to say and present the facts for what they are, you can convince people of a lot of things."
Renner's inspiration for his civic involvement largely comes from his father, also named John. The elder Renner was an electrical engineer and a World War II veteran who was heavily involved in the Rosslyn community.
His son also followed in his footsteps in a more unusual way — working with his wife.
"When I was in high school, my dad started his business and my mom went to work for him," Renner said. "I said, 'I'll never have that. That doesn't work.'"
Between the firm and their joint charitable efforts, the Renners spend a great deal of time together. It's been a challenge to keep love and business separate, but the pair has managed to pull it off and remain close.
"We have a rule that we don't talk about business at home," Renner said. "We support each other. We don't have many disagreements on how the business is run."
It's worked for the family and the business. Renner & Co. was founded as Renner, Kositzka & Wicks in 1983. The firms split in 1989, and John and Joan were coworkers before they were husband and wife. He's proven to be as caring a husband as he is a community member.
"He's so thoughtful that I have to be careful not to ask him for things unless I really want him to go get them," Joan said. "He picks up on things. He realizes that I need something before I even do."
That care extends to his work as a boss, where he's quick to protect his employees' interests.
"I got my first big client after about four months here," said Cathy Pennington, CPA, partner at Renner & Co. and a VSCPA member. "After about two months, I went on vacation, and they called John up to come down and visit them and complain about me. I didn't really appreciate that — didn't find out about it until after the fact, of course — but at that point, I did also find out that they had explained to John all the things I was doing wrong, what they wanted and this, that and the other thing, and John told them, 'You know, if it was me, I wouldn't do it.' When I got back and heard about it, he gave me permission, basically, to fire the client anytime I wanted to."
The common thread in all of Renner's endeavors is his complete devotion to the cause. Whether it's his family, his employees or his community work, he jumps in with both feet and gives his all to help make things better.
"He gives tremendous support to, and advocacy for, Alexandria's small businesses," said Val Hawkins, former president and CEO of the Alexandria Economic Development Partnership. "He's a huge supporter in the nonprofit sector of our community. The bottom line is: John Renner cares, and does something about it."