The VSCPA has spent the last couple of years focused on the future, with the VSCPA2025 strategic framework as the main result coming out of that process. But that framework is just one of many ways that the VSCPA is trying to drive the conversation about where the profession is headed.
VSCPA President & CEO Stephanie Peters, CAE, celebrated her 20th anniversary with the Society last Friday, and she's spent a lot of her 20th year attempting to drive that discussion. That includes visits to firms, chapters and other professional gatherings to talk about the disruption that's currently affecting the profession.
One of those talks was held at Fairfax firm Matthews, Carter & Boyce (MCB) in June as the firm celebrated its 70th anniversary with its first all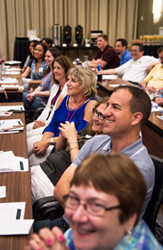 -employee retreat (pictured). That discussion, held June 26 at the Marriott Westfields, symbolizes the profession's efforts to evolve with the times to remain relevant in an era of disruption and volatility as MCB, like firms across Virginia and the country, works to find the proper services for future success.
"Our firm has transformed over 70 years beyond a traditional CPA firm to serve as our clients most trusted financial advisor," said Jude Covas, CPA, managing principal at MCB. "We deliver accounting, audit, tax services and advisory services for a complex client base. Clients expect us to see the big picture and guide them to achieve their business goals."
That last detail — "Achieve their business goals" — may hold the key to the CPA profession's future relevance. A major part of the VSCPA2025 plan is in helping CPAs leverage disruptive technology to offer new, vital services to taxpayers and businesses. While those technological advances may be doing some of the more lower-level work traditionally performed by CPAs, they also provide robust data that forward-thinking firms can use to provide a deeper level of insight and business advice.
That's the lesson Peters hopes to impart during her firm and chapter visits, where she delivers a presentation based on the military term VUCA, which stands for volatility, uncertainty, complexity and ambiguity. The CPA firms that are successful in this business climate will be the ones that embrace data and find new levels of insight to offer clients.
As she puts it, the challenge will come in making the 2025 vision a reality. As a profession, we need to look at ourselves and discuss what we need to change and how we will get where we're going. We need to ask the tough questions and be open to doing things differently.
"I'm motivated by big challenges, big ideas and making things transform," she said. "That's where we are right now. I don't have all the answers, but I'm open to ideas. I think we will be successful."
The VSCPA is attempting to engage with firms and serve as the unifying force for that necessary change. In addition to MCB, Peters has visited firms around the state, including Dixon Hughes Goodman and Piascik in Richmond, Spiegler, Blevins & Co. in Abingdon and Thrower, Blanton & Associates in Norton. Like most firms of all sizes, those members are dealing with issues of changing technology affecting their business, how to find experienced staff that will bring value and how to evolve amid regulatory roadblocks and uncertainty. The VSCPA can't resolve all of those issues, but we can help firms come to terms with that changing environment and provide opportunities for them to learn from each other.
Peters has spent the last 20 years helping drive the profession forward as technology has transformed the services CPAs offer. She believes the next five years will bring the same amount of change in just the next five years.
And just as CPAs must embrace their role as forward-looking business advisors, the VSCPA is throwing itself into its role as the partner and advisor to those CPAs. Part of the 2025 process involved crafting a new mission and vision for the profession, a goal which expanded into offering separate visions for the CPA profession and the VSCPA:
The CPA profession is known for its dynamic culture of innovation, visionary leadership, professional experience and stellar reputation.
The VSCPA is the essential, strategic partner for CPAs, their profession and their communities.
Our mission, meanwhile, is simple: "The VSCPA empowers our members to thrive." That's why Peters is taking the 2025 message on the road to those members. It's why firms like Matthews, Carter & Boyce are embracing change as they celebrate their history. No amount of past success, be it 70 years as a leading CPA firm or 20 years as a professional leader, is a guarantee of future relevance. It's up to CPAs to create the bright future the profession is capable of, and the VSCPA is committed to making that future a reality.