Editor's note: This is the first in a series of articles detailing the mentor-mentee relationship between two VSCPA members, facilitated by the VSCPA's MentorMatch program. If you're interested in learning more about MentorMatch or participating in the program, visit connect.vscpa.com/MentorMatch or contact VSCPA Member Engagement Manager Laura Cobb, CAE.
The formal MentorMatch relationship between VSCPA members Elizabeth Owusuwaa and Niki White, CPA, has ended. But the communication isn't going to stop.
Owusuwaa is finishing up her undergraduate degree at Old Dominion University (ODU) in Norfolk while working part-time with Cherry Bekaert. She's currently planning to continue on to get her master's degree in accounting — an education path taken on partially at White's suggestion.
"What I want to do is not just focused on accounting. I want to begin my career in accounting because it will teach me how the world of business runs as a whole," said Owusuwaa (right). "Eventually, I want to travel, working with third-world nations and other poverty-stricken countries to aid in their business and economic development strategies. Because of this goal, some advisors have said it's best to get a Masters in Business Administration rather than a Masters in Accounting.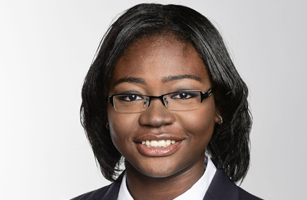 "There was good feedback on both sides, but talking to Niki essentially brought it all together. She said that the MBA is good for what I want to do in the long run, but because I want to start out in Accounting and get that experience and background, the Master's in Accounting is more valuable for the early stages of my career. Also, Niki shared that after I've gained experience in the workforce, an MBA will hold a much greater weight, should I decide to pursue it later on."
Owusuwaa is getting some of that experience now at Cherry Bekaert's Norfolk office, helping with the validation of tax forms. It's part of her effort to see all sides of the accounting industry to make informed career decisions.
She's spoken with numerous other CPAs aside from White, but says her mentor's wealth of diverse experience in the industry gives her an especially useful perspective.
"She's had so many experiences at all the different levels," Owusuwaa said. "It's unusual to have someone who's touched a little bit of everything."
That's one of the major benefits she got from working with White (right), finance director at Strategic Risk Associates in Glen Allen and a member of the VSCPA Board of Directors. The two met at the 2015 Leaders' Institute, where Owusuwaa attended a panel discussion that included White.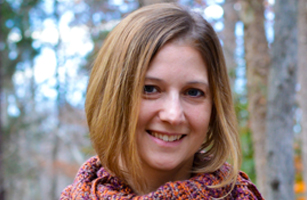 They connected there, then formalized their relationship on MentorMatch. What started with formal meetings and calls turned more informal when the two began exchanging text messages.
"I think that strengthened our relationship. It was more of a 'Hey, I'm thinking of you right now,'" White said. "I think it made her feel important when I would randomly send her a text instead of having a formal meeting where we talked for an hour because that's what was on the calendar. The texting made it more casual and enhanced the comfort level."
"I know the purpose of conversation that doesn't have to be anything extravagant," Owusuwaa said. "It helps in making decisions and in determining what happens next. It's always good to talk to somebody who can give you balanced feedback and help you make good decisions."
They'll continue to swap text messages despite the end of their MentorMatch pairing. As White puts it, "She becomes part of my life story and I become part of hers." She'll be one of several informal proteges that White corresponds with.
While White is more than willing to take on mentees, many of her professional colleagues do need that extra push to start a mentor relationship. The formality of MentorMatch is even more important for would-be mentees.
"There are students who don't know how to go look, who don't know how to walk up to someone and ask them to mentor them," White said. "I would imagine it's somewhat like online dating, where you have at least a defined population of people who are looking to make a connection. Some mentees may not know how to ask for mentorship, don't want to waste someone's time or feel like they have to offer something to get something.
"MentorMatch is an important step. I think it will roll into a more casual, as-you-need-it process as people come into the Society, but it's important to have it to pull people deeper."
That wasn't an issue for Owusuwaa, who approached White after that Leaders' Institute panel to take the first step in the relationship. She's benefited from White's wealth of experience across different industries and firm sizes and clarified her graduate school plans in a way that she considers better for her future.
"It just made sense from both sides of things," Owusuwaa said. "And given the fact that I do want to get my CPA, going two years in an MBA program without taking a whole lot of accounting classes might not be very good preparation for the CPA Exam."
That Owusuwaa felt so comfortable taking White's advice is a function of the personal relationship they built through texting. The digital roots of MentorMatch encourage that kind of connection for mentors and mentees, creating a comfort level more quickly than a more structured, regimented mentorship.
"I think that college students these days are very comfortable with texting," White said. "I think from our mentorship program, from the mentor's perspective, making sure that we can reach them in their comfort zone will create a stronger relationship that can create an open conversation."
And the ease of starting that conversation can have a lifelong impact on a young accountant's career. In assessing the end of her formal relationship with Owusuwaa, White reflected on a colleague who helped her early in her career and how that person's gesture shaped her outlook.
"There have been so many people who I would consider valuable mentors to me, but in one, someone walked into my office and said, 'Come with me.' That phrase is so meaningful to me as a professional," she said.
"I think students just have such a hesitancy to think they're worthy of the time. What the VSCPA does and what the MentorMatch program does is offer a pool of people who are willing to have a conversation with you. It can take away some of the intimidation factor."