Editor's note: This is the last in a series of articles detailing the mentor-mentee relationship between two VSCPA members, facilitated by the VSCPA's MentorMatch program. If you're interested in learning more about MentorMatch or participating in the program, visit connect.vscpa.com/MentorMatch or contact VSCPA Member Engagement Manager Laura Cobb, CAE.
The first round of the VSCPA's MentorMatch relationships drew to a close recently, including the matchup between mentee Nidia Cruz, CPA, and Beth R. Berk, CPA, CGMA. Reflecting on the benefits of the relationship, both women deemed it a success, due in large part to the sincere commitment each side brought.
"I really appreciated the fact that Nidia took the whole process very seriously and held herself accountable," said Berk, an independent recruiter based out of Bethesda, Md. "Even when she may not have finished doing something or reached a particular goal from one conversation to the next, we talked about not being so hard on yourself. If there's no hard deadline on something, you just keep moving forward."
A big part of Cruz's motivation for seeking out the relationship was her desire to commit to a career path in the profession. While she didn't exactly come away with a firm answer to her questions about the future, she can now focus on the decision with greater tools and perspective at her disposal.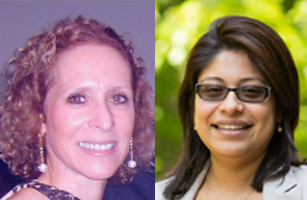 Cruz, a senior accountant at Anthem, Inc., in Virginia Beach, expressed an interest in becoming an accounting professor at the beginning of the relationship, and she attended the VSCPA's Educators' Symposium last month on Berk's advice. The event gave her a clearer view of the challenges facing accounting educators and an opportunity to discuss the positives and negatives of the position.
"As Beth pointed out, I really need to do my research," Cruz said. "She helped me pinpoint and ask certain people certain questions and put me in contact."
Those contacts included professors from Kent State University, Christopher Newport University and George Mason University, all of whom offered their own insights into what Cruz would need to do to become a professor. The main reason for the necessity of deep research into a potential move to academia, of course, is the cost of entry. Cruz is working toward her master's degree and would need to get that degree and a doctorate to enter the field.
"The majority of universities prefer a Ph.D.," she said. "If I really want to go that route, I have to really think it through. It's not only an expense, but there's a lot of time I'm going to need to put into it. I need to make sure it's really what I want to do."
Berk added: "We started talking about things she could do internally at her job to prepare for that. It's one thing to say you want to be a professor, but if she starts doing some training at her job and realizes she doesn't like standing up in front of people, becoming a professor isn't exactly a good choice for her."
Berk spoke from experience about educators' conferences — while she's not a professor herself, she attends the Maryland Association of CPAs' (MACPA) version of the Educators' Symposium each year as a way of keeping up with the issues that affect her youngest clients. And as mentioned before, while she doesn't work in education, she has plenty of experience in changing careers mid-stream. She started out in public accounting realizing that particular field wasn't for her, and after working in roles utilizing her CPA training, she ultimately transitioned into a recruiting role.
"When I found recruiting, I realized that I was playing to my own strengths," she said. "As a fast-paced person, certain working environments were not a good match. Now, I get to deal with fast-paced business transactions, be my own boss and make money too. I feel fortunate that I was able to find a career that plays to my strengths, although I did need to get out of my comfort zone at times. It gives me great satisfaction if I can help somebody else achieve that as well."
For the introverted Cruz, that meant doing her due diligence on the world of academia and increasing her confidence overall. She's been satisfied with the steps she's taken — she's increased her contacts with in Anthem and outside the company.
"One silly question I asked her was how to ask people to network with them, how to find out more about them without seeming so self-interested when I'm really not," Cruz said. "I want to know more about the company and how people play a role.
"She summarized it in a way that you can find so many things in common. It can be an easy lunch and from there, you don't go right off the bat with job talk. You just start conversating with them. I didn't think it would be that easy, but it is. You just have to approach them and know what you want to get out of it."
Another major step for Cruz was joining Toastmasters as a way to improve her confidence and speaking skills. She started out with an icebreaker speech where she introduced herself and laid out why she joined the organization.
Between the Toastmasters speech and her efforts to widen her network, she increased her confidence and made herself more visible at Anthem.
"You have to put yourself out there for people to know your name," she said. "…I don't think young people realize how important that is. They stay at their cubicle, at their desk, but that's not always the way things are going to work out. In a competitive environment, that can be a hindrance if you don't know how to network the right way."
For Berk, one of the most gratifying signs was the fact that Cruz followed through on the advice she was given.
"So many times in my business, I speak to people who are trying to get from here to there," Berk said, "and I make suggestions about what they need to do with their resume and they drag their heels or they don't do it at all. She actually set goals and made herself accountable. If you're going to spend time talking to someone to help them, it gives you more pleasure that they take what you provide to them and actually incorporate that into their life."
The sentiment clearly goes both ways, as Cruz articulated: "She is a great mentor in pinpointing and giving ideas on how I need to approach things and, overall, ensuring I continue to hold myself accountable for my professional goals."
Now, with the formal MentorMatch relationship wrapped up, it's up to Cruz to stay in communication with Berk and her other contacts and decide where she wants to be in the coming years.
"I do like my job. I'm not sure if I want to stay here or not yet," Cruz said. "I do want to have options. I've been in a spot where headquarters decides they need to cut people. I don't want to be in a spot where I don't have an option and get laid off or eliminated from a department. I want to be able to stay within the industry, and it seems like having a good network is going to help me."