Editor's note: This is the first in a series of articles detailing the mentor-mentee relationship between two VSCPA members, facilitated by the VSCPA's MentorMatch program. If you're interested in learning more about MentorMatch or participating in the program, visit connect.vscpa.com/MentorMatch or contact VSCPA Member Engagement Manager Laura Cobb, CAE.
Elizabeth Owusuwaa is a senior at Old Dominion University (ODU) with plenty of experience on both sides of the mentor-mentee relationship. So she knew just what she wanted when she signed up for the VSCPA's MentorMatch program.
Owusuwaa was paired with Niki White, CPA, finance director at Strategic Risk Associates in Glen Allen and a member of the VSCPA's Board of Directors. White has had a wide array of professional experiences in her career, and she has also benefited from being on the mentee side of the relationship.
"I've had so many mentors, but they were all very informal," White said. "They weren't through the VSCPA, but they were because of the VSCPA."
White (right) got her introduction to the VSCPA from former VSCPA board member and Virginia Board of Accountancy Chair Barclay Bradshaw, CPA, when both of them worked at L.P. Martin & Co. in Glen Allen. She also cites VSCPA members Jim Brackens, CPA, Elsie Rose, CPA, and Stephanie Saunders, CPA, as influences who inspired her to take on mentees of her own.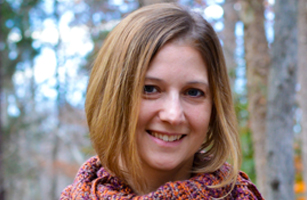 That led her to MentorMatch and Owusuwaa, whom she connected with during the Leaders' Institute last year. Owusuwaa approached White after White spoke on a panel, and the two stayed in contact and decided to link up for a formal mentor relationship.
"It's a very important skill to always show appreciation for others who come to speak," Owusuwaa said. "It seems really small and kind of obvious, but those are the little things that help you to stand out.
"She was sharing with me even how she got connected with the VSCPA and kind of tagged along with certain people, and it opened doors to her to do what she does now. Now, every time I go to an event when someone is speaking, I go to say thank you, not always to get something out of it, but to appreciate them coming to share their experience."
"What impressed me was more that she came up to me after the fact," White said. "What we talked about in that short time by the water cooler was that the people who put themselves out there are the people who get the opportunities. Because she came up and said hello to me, now she has a mentor. Now she has access to other VSCPA lines, other mentors, and she has access to my network that I've spent years and years building."
White isn't the first mentor for Owusuwaa (right), who started out at ODU as a psychology major before switching to accounting. The youngest of five children, she was born in Ghana and raised by other family members after her father died and her mother moved to the United States.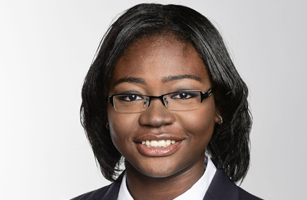 She joined her mother in Northern Virginia at the age of 10 and has counted herself blessed to have numerous mentors who have helped her along the way.
"My whole life has been centered around other people stepping in to help me with my journey," she said. "When I was in Ghana, it was more family members stepping in to help us, but when I came to the States, it's always been a thing. My teachers always wanted to help me and mentor me."
One particularly influential mentor was her personal basketball coach, Bill Lawson, father of ESPN analyst Kara Lawson. He came into Owusuwaa's life after she blew him off when he attempted to congratulate her during a Powder Puff football game at Mount Vernon High School in Alexandria.
"Our principal saw that and told me it was rude and disrespectful and that I needed to apologize," Owusuwaa said. "It took a lot out of me and I did it, but he was so impressed with the way that I came back and apologized for that that he wanted to learn more about me. He found out I played basketball and got back into coaching because of that. It really turned into more of a mentorship thing. He was teaching me things about life."
That's a far cry from how Owusuwaa found White, and Owusuwaa is a long way removed from those high school days, when she admits she "had a really horrible attitude." Indeed, it was her confidence and the way she carried herself that drew White to her in the first place.
"She was warm, she was friendly and she was willing to put herself out there. She was someone who I wanted to help," White said. "She was engaging, she was intelligent and she's one of the stars of her class. We just kind of clicked."
White would be a useful mentor to any aspiring CPA because of the breadth of her career experiences she's had in what's still a relatively short career. She started out at PricewaterhouseCoopers before moving first to smaller local firms, then into industry with banks.
The aforementioned mentors helped her make those moves with confidence. She's worked to pay that forward with Owusuwaa, encouraging her to get her master's degree in accounting instead of business administration.
"It seems that as you ebb and flow through different points in your professional progression and your personal progression, you develop an attractive quality for what you need in that moment," White said.
Owusuwaa is taking the time to help others as well. She's leveraged ODU's entrepreneurship center to back two young Haitian students who are starting a small sewing company, and she's also working as a peer mentor on campus.
Her own background has also been a major influence, particularly her status as a first-generation college student. She counsels ODU freshmen through the school's leadership development program, hoping to help them navigate a world that was challenging for her when she first enrolled.
"I like to help first-generation students like myself who don't have that guidance when they come to college," Owusuwaa said.