Editor's note: This is the second in a series of articles detailing the mentor-mentee relationship between two VSCPA members, facilitated by the VSCPA's MentorMatch program. If you're interested in learning more about MentorMatch or participating in the program, visit connect.vscpa.com/MentorMatch or contact VSCPA Member Engagement Manager Laura Cobb.
In writing the first article in this series, I found myself debating the best way to present the thoughts and experiences of Nidia Cruz, CPA (pictured, at right), one of two VSCPA members who graciously gave of their time and gave me a window into the mentor experience. It's a delicate task to discuss someone's sincere career aspirations without straying into territory that could jeopardize their position with their current employer.
So I decided to attack the problem head-on. After all, keeping her current employer, Anthem, happy, was going to be an issue for Cruz no matter what I wrote (although I'm certainly capable of making things much, much worse). So that's a major theme of this installment in our MentorMatch series portraying the relationship between Cruz and her mentor, Beth Berk, CPA (pictured, at left), and I hope it's useful to everyone out there. How do you strike the proper balance between keeping your employer happy and advancing your own career, particularly when that could take you outside your company?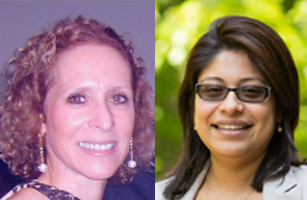 To recap the previous article, Cruz, a senior accountant specializing in regulation reporting, contacted Berk hoping to gain some insight into potential future career moves. One topic that came up in their first conversation (they've spoken again since then) was Cruz's interest in teaching accounting. Informing Berk about that as a possible career path allowed her to offer some advice to Cruz.
"If you've been with an employer for a while and they know you have a desire to leave down the road, such as wanting to teach, then utilize that passion and hold internal seminars in your company," Berk said. "A good employer, if you've been there for a while, might allow you to work on a part-time basis and help you get where you want to go. One never knows when you can in turn be a resource for them, such as recommending students for internships or to work for them upon graduating."
"It can be a win-win if it's handled the right way. You have to be somewhat transparent, but you have to know who you're up against so it doesn't work against you."
Cruz has only been at Anthem since September, certainly not a lot of time to get to know lots of other people in such a large company. Yet, that short amount of time can be enough to get into a groove, for better or worse.
"Getting out of your comfort zone can be hard," Cruz said. "She was telling me how to ask people questions. I always had a hard time asking questions while not seeming like I'm looking for something in return. She said it can be as simple as taking someone out for coffee and finding out what you have in common."
The characteristics of Cruz's current employer can work both for and against her. On one hand, Anthem is a large company with a diverse array of departments and services, meaning she has opportunities to move up and plenty of resources within the company. On the other, it's easy to get lost in the shuffle at such a large organization.
She and Berk covered both sides of that coin in their most recent conversation. Berk says Cruz is in an "information-gathering stage" that will help her tap those resources and get her name and accomplishments out there.
"It will expand her horizons in her own company regardless of what she does the rest of her life," Berk said. "She'll start meeting people who are going in similar directions that she may want to go and making contacts within the company. When people get promoted within or leave and she has a good relationship with them, those people can help her get a new role within or a new job elsewhere down the road. I'm trying to help her learn to network and also pass the baton, so to speak."
"You have to be proactive about your career and take action," Cruz said. "As a young professional, you think you're doing a good job, that you get noticed for what you're doing, and that's not always true. You have to ask your employer if there are opportunities to grow within the company."
The connections Cruz is making and the new opportunities she should take on will help her move forward from a hectic period in her life that saw her earn her CPA license, have a child and start with Anthem in the past three years. As she distances herself from those changes, she can take stock of her work situation and gain clarity on what, exactly, she wants from her career. Berk says that will only help her in advancing in her career the way she wants.
"When we first started, she had a lot going on personally," Berk said. "It's a lot to undertake at one time in addition to trying to figure out what you want to do in your career."
She added: "What happens to a lot of people is that at times they may be all over the map. I'm not saying she was, per se. However, when people come to me looking for a job or career advice, it's hard to direct them without some direction.
"I can't make that decision for people. I can only help guide them based on what they tell me and what they're trying to accomplish. I think I shed some light for her."
So for now, Cruz is looking to gain further insight into other potential career paths. One of those is still in education, which she has discussed with Berk multiple times. That means reaching outside Anthem in her networking efforts to potential resources in academia.
"She has a couple of contacts that she passed on to me," Cruz said. "She passed along a contact at Christopher Newport University, and she's going to follow up and answer the questions that I had."
Berk said: "I think the first conversation we had was more about the educational field, maybe becoming a professor down the road. I gave her the name of a professor and now they're in touch. I think that's a longer-term goal, so we discussed where she is now and how she can maximize her learning potential at her company. I suggested she find out what's available to her that's in her backyard, so to speak."
Those next steps will help Cruz figure out what she wants from her career and whether or not that means she'll be at Anthem for the long haul. We'll check back in with Cruz and Berk in a few months to see what else they've talked about.