By Jeanette Woodcock, CPA
Managing Partner, Woodcock & Associates, Fredericksburg
Gathering with anticipation in the warming morning sun, our team prepared to lend a hand in helping Habitat for Humanity prepare another dream come true. The website proclaims, "No previous experience is necessary, just a willing heart," and that described our team pretty well. The late September weather has warmed up after the temporary lull in temperatures, and this day was no exception. 
As we gathered outside the split-level ranch in the quiet Chancellor Green neighborhood, we were joined by two more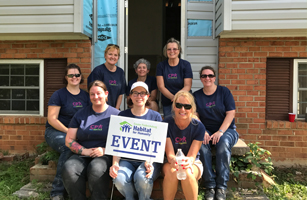 amazing members of the community. After retirement, Phil started working with Habitat in 2007 four or five days a week. Once he turned 70 he cut his service down to one or two days a week. Al, a young Marine from Texas waiting to be activated, was putting his free time to use in the community and trying to learn new skills. 
As we got started, Amber, our project manager, told us the story of the refugee family that would benefit from the rehabilitation of this house, the parents and four kids currently living in a tiny apartment. Amber described the commitment and amount of work the family had to put in: 500 hours of service with at least 150 into their own house. As Amber shared the story, Beverly realized she knew the family and it brought a smile to her face. Through Beverly, we all felt connected to the family and it was something we remarked on as we worked throughout the day: What a great house for a family, the kids will love this yard…
Teamwork is nothing new at Woodcock & Associates, but this experience allowed us to appreciate each other in a whole new environment. Everyone gravitated to the jobs that suited them the best, some choosing demo, some choosing cleanup and others constructing new walls. We encouraged each other, shared tools and solved problems with wood and nails rather than excel spreadsheets and calculators. 
At the end of the day, we were amazed and proud at the amount of work we got done with just our willing hearts and little prior experience. We had demolished the wall separating the kitchen and living room, took down rickety railing on the stairs, framed in two new bedrooms and removed tile from the floors and bathroom walls.
We all left feeling good — tired, sweaty, sure to be sore, but connected to our community, impressed with ourselves and each other and appreciative of the diversity of experience that defines our community.