By Richard Groover, CPA
Shareholder, Wall, Einhorn & Chernitzer, Norfolk
2018–2019 Chair, VSCPA Board of Directors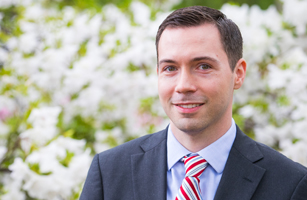 Every incoming VSCPA Board of Directors chair comes in with goals for his or her year in charge. With an assist from the leaders who came before me, I've got goals for the next seven years.
It's been two full years since the Board began work on what became the VSCPA's strategic framework, VSCPA2025. We split into task forces, took the pulse of the membership and reviewed trends and studies about the future of the CPA profession to try to determine where we wanted to focus. Just over a year ago, at the 2017 Leaders' Summit, my two immediate predecessors, Staci Henshaw, CPA, and Jim Phillips, CPA, joined VSCPA President & CEO Stephanie Peters in presenting VSCPA2025 as the guiding framework for the Society's efforts to support the profession. The framework is both narrow and broad, encompassing the creation of a vital path forward in the face of technological disruption and a vision for creating, protecting and nurturing the profession and its present and future practitioners. Each of us in the profession has a charge in driving the profession to its future as a truly indispensable asset and partner for the business community.
We've made significant strides in the first full year of VSCPA2025 implementation. We've invested in technology, including the creation of a new website and the exploration of new modes of delivery of our learning programs. We're working to help members innovate with resources, training and thought leadership, and we've partnered with educators across the state to help train the CPAs who will reap the benefits of that innovation and drive the future of the profession. And we continue to advocate for members to help guide them through a changing landscape in the areas of taxation, regulatory reform and peer review changes.
For all that work, there's still so much left to do. We're continuing the initiatives described above and evaluating the ways we can best embody our now year-old mission: Empowering our members to thrive. My charge for the next year is to be a good steward of those efforts while exploring new ways to fulfill the 2025 promise through innovation, relationships and a focus on technology. I hope to hear from any of you who have ideas, feedback or just want to help. The future of the CPA profession in Virginia depends on our efforts.