By Genevieve Hancock
Technical Accountant, Disney Parks & Resorts, Lake Buena Vista, Fla.

I attended the VSCPA's Leaders' Institute in 2011, and the event continues to affect my career to this day.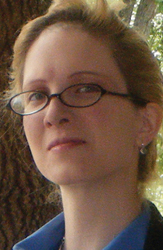 I am connected on LinkedIn with many acquaintances from the Leaders' Institute, as well as a few who are social media friends. It was one of the most beneficial experiences of my accounting student career, not only for the experience itself, but for the need to reach out and request that a professor nominates you for the experience.
The Leaders' Institute has a large and diverse population, as well as a large regional pull. I encountered many individuals from the Tidewater, Roanoke, Richmond and Northern Virginia areas. This facilitates networking, not only across companies and regions but also within the VSCPA. Some of the most satisfying work that I do is for my positions on the Young Professionals Advisory Council and the Disclosures Editorial Task Force. The volunteer work is very rewarding on a personal level. The institute incorporates fun and practical items for a student's future accounting career into only a few days.
The extremely professional feel of the Leaders' Institute helped me develop my business acumen, as well as soft skills by providing the opportunity to discuss different industries and businesses and the different job opportunities they provided. The networking opportunities were set in different environments, providing for individuals to flex their networking style, and were true to form in the nature of professional conferences and vendor events I later attended in my career. There was a Hawaiian-themed dinner and a professional etiquette lunch, going through proper manners for business lunches.
The courses provided by the institute were also very beneficial. One for the most beneficial courses, in my opinion, was concerning how to react to and how to initiate difficult conversations within the workplace. This included "taboo" subjects such as pay increases and moving positions, as well as providing coaching and feedback upwards and to employees for later in your career.
The VSCPA provided business cards to practice how to properly network and initiate introductory conversations. At one of the first sessions I attended, a recruiting professional reviewed résumés and provided feedback on previous experience, and fielded questions from students concerning interview interactions. While I did not participate, I heard wonderful things about the mock interview sessions as well. After the Leaders' Institute was complete, there were opportunities to remain in contact with the VSCPA. I stayed involved with the Institute and briefly participated on the Leaders' Institute Development Task Force.
Overall, the Leaders' Institute was one of the most beneficial experiences of my student accounting career, maximizing the opportunity benefit while also minimizing the time commitment and providing lasting relationships and opportunities for years.