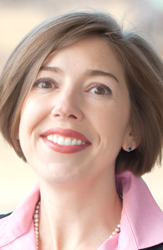 As VSCPA President & CEO Stephanie Peters, CAE, wrote, CPAs are ideally suited to help nonprofit organizations through service on boards and committees. VSCPA Board of Directors Vice Chair Vicki Jones, CPA, has a unique perspective on that — she has worked for nonprofits on both the staff and volunteer sides.
Before founding her own firm in Crozet — which specializes in serving nonprofits, naturally — Jones was treasurer and CFO of the University of Virginia Law School Foundation and vice president and CFO of the Thomas Jefferson Foundation, which runs the former president's historic home, Monticello.
The VSCPA spoke with Jones about what drew her to the nonprofit industry after starting out in public accounting, and why her background (and that of her colleagues) is such a good fit for nonprofits.
VSCPA: What, exactly, is your background with nonprofits?
VJ: I began my public accounting career in January of 1993 at the Birmingham, Ala., office of Coopers & Lybrand. A large public university (using GASB financials) acquired a small community college (using FASB financials), and I was assigned to work on the project to convert the community college's financials to GASB basis and consolidate them with the public university. I had a knack for nonprofit accounting (this was in the "old" days of fund accounting) and began focusing my work on those clients. As Coopers & Lybrand became PricewaterhouseCoopers, I was a member of the nonprofit industry group and gained experience working in Richmond and Washington offices for nonprofit clients across the eastern United States. In 2001, I had the opportunity to join the University of Virginia Law School Foundation as its treasurer and CFO, and in 2007, the Thomas Jefferson Foundation (Monticello) as vice president and CFO. I began Jones & Company CPA, LLC in January 2014 as the fulfillment of my dream to create a CPA practice that specializes in servicing the nonprofit industry.
VSCPA: What were the mission of the nonprofits you worked for?
VJ: The University of Virginia Law School Foundation receives, administers and manages private gifts from graduates and friends for the benefit of the University of Virginia Law School.
The Thomas Jefferson Foundation (Monticello) has a twofold mission:
Preservation — to conserve, protect, and maintain Monticello in a manner which leaves it enhanced and unimpaired for future generations

Education — to interpret and present Thomas Jefferson to the widest possible audiences, including scholars and the general public
VSCPA: What led you to that particular nonprofit and the field in general?
VJ: I began working on nonprofits just eight months after starting my public accounting career. I enjoyed the complexity and detail of the accounting but the most compelling part for me was knowing that the organization was making the world better, not just generating profits. I liked (and still do!) the idea that my work contributed to the greater good being done by the nonprofit.
VSCPA: What are some of the challenges of working in the nonprofit sector?
VJ: Funding can be a challenge, depending on the organization; for example, grants from the government (local, state, federal) can dry up, or a significant donor can stop giving gifts. Complexity in keeping up with gift or grant restrictions and grant regulations makes the accounting challenging. Another challenge can be recruiting and retaining qualified staff. Many nonprofits can't offer compensation/benefits at the level of a for-profit, and that makes it difficult to attract the best qualified candidates
VSCPA: What challenges did you face in getting volunteers for your nonprofit?
VJ: Volunteers are great! Getting volunteers at the nonprofits where I worked was not difficult — the challenge can be in making sure that the relationship is productive and positive for both the volunteer and the nonprofit. It's important to have specific expectations upfront and to have feedback between volunteers and organization staff.
VSCPA: What makes CPAs so uniquely suited to sit on nonprofit boards?
VJ: Nonprofit boards, particularly those of small organizations, are commonly made up of persons who are passionate about the mission/work of the nonprofit but have no experience with finances. In addition, there may be only volunteers running the organization and this can lead to little continuity in roles. The organization benefits from having a CPA on its board because he/she can help it establish proper internal controls and policies and "interpret" financial information to the board to help it monitor and understand its operations. To me, accounting is its own language. Financial statements and information are written in the accounting language. The CPA becomes a "bridge" to translate and explain what is written in the financial statements to the board and management.