Editor's Note: This is part of a series of profiles highlighting the diverse interests and careers of VSCPA members. Know a member (including yourself) who would make for an interesting profile? Email VSCPA Communications Manager Chip Knighton.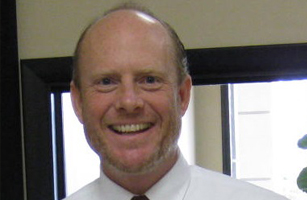 Like the rest of the country, Virginia's population is growing older. Baby Boomers are reaching retirement age en masse, bringing about demographic and financial issues that will affect them and the Virginia economy.
Tim Counts, CPA, wants to help senior citizens deal with those challenges. Counts, a sole proprietor in Chesterfield, is the founder of A Measure of Grace, a nonprofit organization aimed at providing free and low-cost tax services to senior citizens in the Richmond area.
After leaving industry to open his tax practice, Counts was struck by the age demographics of his customer base, which was skewed heavily toward individuals nearing retirement. Nearly two-thirds of his book of business is between 60 and 70 years old.
After meeting with the Chesterfield Council on Aging and the county's senior advocate, Debbie Leidheiser, Counts wanted to do something to help senior citizens get tax advice on a free or reduced-cost basis.
"Our community is going to grow in the neighborhood of 285 percent of individuals who are 60 and over the next 10 years," Counts said. "And Chesterfield is the fourth-largest county in the state of Virginia. You take into consideration Richmond, Henrico, Goochland, Powhatan, and you look at those demographics and you start to understand that there's a need."
Counts and co-founder Lori Erdman created A Measure of Grace earlier this year after contacting representatives of the U.S. Internal Revenue Service's (IRS) Tax Counseling for the Elderly (TCE) program. TCE offers grants to organizations to assist them in providing tax assistance to elderly individuals, but the closest such office to Chesterfield was in the Tidewater area and only open during tax season. No year-round TCE offices are open in Virginia.
Counts applied for a grant and hopes to become a multi-year recipient. In addition to serving elderly individuals in the Chesterfield area, he hopes to spread the concept across the state, tapping the collective knowledge of Virginia's CPAs to help as many people as possible.
"The idea is to receive the grant and build a model that works in Chesterfield. Then, let's grow it to Roanoke," he said. "Let's grow it to anywhere within the state of Virginia where people in the Society can help."
Counts grew up in Poquoson and served for several years in the U.S. Coast Guard before attending college, first at J. Sargeant Reynolds Community College in Richmond, then Christopher Newport University in Newport News. He began his accounting career as a financial analyst at UPS, then became a controller at APAC, a construction company that originally sent him to Georgia before bringing him back to Virginia to help oversee the western expansion of Route 288 in Chesterfield.
Hungry for a different challenge, he left APAC, earned his CPA license and founded his sole proprietorship in 2014. Originally, his plan was to use his industry experience to provide advisory services to small and growing businesses.
He wound up attracting a different customer base than he had envisioned and couldn't shake the urge that there was a way he could serve his aging clients more effectively.
"To us, doing a tax return is not very hard at all and takes a very minimal amount of time. But for the person across the desk from you, they see that you understand everything," Counts said. "You ask the questions. You get it done. The smile and relief on their face when they see that they're taken care of is so rewarding."
That led to the formation of A Measure of Grace, which got its name from Counts' Christian background and the peace of mind he hoped to bring to his clients. Eventually, he hopes to enlist CPAs across the state by leveraging technology to connect them with taxpayers in need.
"I think there's a common tone of giving and caring among CPAs," he said. "I think our profession is one that's highly regarded by the citizenship not only because of our ethics, but also because we give people the answers they need or refer them to people who do."