Editor's Note: This is part of a series of profiles highlighting the diverse interests and careers of VSCPA members. Know a member (including yourself) who would make for an interesting profile? Email VSCPA Communications Manager Chip Knighton.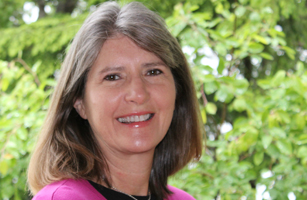 It's hard to picture in this day and age, but 20 years ago, the Internet wasn't a ubiquitous thing that reached into every moment of our lives. Back in the salad days of America Online, businesses were doing what they could to make sense of what this new phenomenon meant to their bottom line. One VSCPA member was on the front lines of that effort.
Terry Blevins, CPA, has been retired for the better part of a year. But in 1999, she was deep in the weeds of the development of a website probably nearly everyone reading this article has visited: Weather.com.
Blevins had joined Weather.com's parent company, Norfolk-based Landmark Media Enterprises, in 1990, serving as director of financial analysis for the company's national cable operator, TeleCable, controller at The Virginian-Pilot newspaper and general manager of The Flagship, the company's newspaper for Naval Station Norfolk. But in 1999, Landmark asked her to move to Atlanta to help break the company's interactive division (in other words, the website) away from the Weather Channel.
"Every part of your career is influential, but I probably won't ever have another experience like that," she said. "Launching a startup in an industry that's also starting up — well, we were all learning together. There's no book you can go to for answers.
"The revenue model for Weather.com was different from the cable subscription model. It was all advertising. As we grew into a top-10 site, we were very influential in setting the standard for advertising controls and processes for the online industry. We had to figure out how to handle it."
AOL and Yahoo! were the two big players in the online space at that time and dominated the advertising markets. When the dotcom bubble burst, one of the issues that came to the forefront was inappropriate recording of advertising revenue. That wasn't the case for Weather.com or other Landmark operations, and much of that speaks to the strength of the internal controls Blevins helped develop.
"We were one of the first online companies to really put in place an advertising order entry system with work flow automation," she said. "The contract was entered, signed by the customer, approved by management, automatically produced to the website and monitored to ensure it ran according to contract.  The system also created a file for revenue recognition. The accounting department used the system to verify revenue to signed orders and ad production. We were one of the first online organizations to do that. In fact, after Sarbanes-Oxley was passed by Congress, our department received many calls from other websites stating that their CFO would not sign off on revenue until they instituted stronger controls — controls similar to ours."
Blevins stayed at Weather.com until 2006, when Landmark brought her back to Norfolk to be the company's chief financial officer and executive vice president. Her rapid rise alongside the Internet dovetailed nicely with a focus on technology that was there from the very beginning of her career.
"I was a budget accounting clerk for the Pentagon in the early eighties where they used the Wang word processing system to monitor budgets. I used that processing system to input the budget figures for the Department of the Army," she said. "It was a spreadsheet type of structure, but you couldn't see the entire spreadsheet. Instead, you had to maintain a large print reference book of cell addresses and data. The value of the system was that it had a user interface screen and changes could be rolled up automatically. Prior to that, clerks were tied to 18-column paper entries and a 10-key calculator.
"When I was going to school, we didn't really deal with such a progressive system. We were dealing with COBOL, a programming language that entailed hours of keypunching hundreds of cards for processing. When I was using the Wang system, however, I felt like I was using game changing technology. I started to see that there was a future that would make things a lot easier than before. This inspired me to learn more about computers."
Blevins, a Dale City native who had gotten her bachelor's degree in accounting from Virginia Tech in 1983, decided to go back to school. She returned to Blacksburg to get a master's in accountancy with a concentration in information systems, and once she completed that program, she moved to West Virginia to work for a plastics manufacturer under the umbrella of Borg Warner, the automotive company.
She moved to Massachusetts when the company was bought by General Electric, but returned to Virginia when her husband took a job in Virginia Beach. She helped launch American Microtrace Corp., a fertilizer manufacturer, and spent two years there before accepting her job at Landmark.
In that time, she's seen technology reshape the accounting profession several times over. From COBOL and her 10-key through Lotus 1-2-3 and Excel, she estimates that today's accountants are at least five times as productive as when she started out in the profession.
"You don't have to go through the IT department to get information anymore," she said. "You can download information and manipulate it and view it in so many different ways. It really, from an efficiency standpoint and a productivity standpoint, has propelled what accountants can accomplish."
Blevins weathered all of that disruption, in addition to helping create the online advertising marketplace, and reached retirement from Landmark. But she's not leaving the profession entirely. She's getting her doctorate in business administration online from Liberty University with the intention to teach and is launching a small consulting firm, Blevins CFO Consulting, aimed at helping startups.  
Some of her work there will be on the technology side, where she's seen so much innovation over the course of her career. Those technological advances are a double-edged sword for the profession, aiding productivity while taking over many lower-level accounting functions. 
Blevins views data analysis and internal controls as areas where CPAs can make a great impact even in the face of automation.
"You can design all the internal controls imaginable and everyone can say it's an infallible system, but there's always going to be somebody or something that will break it," she said. "If I was coming into the industry right now, I would concentrate on becoming strong on the financial analysis side of things and internal controls. Those are two areas that will always be needed."