Editor's Note: This is part of a series of profiles highlighting the diverse interests and careers of VSCPA members. Know a member (including yourself) who would make for an interesting profile? Email VSCPA Communications Manager Chip Knighton.
Seth Davis, CPA, got a crash course in taxation from a college professor who gave him an internship opportunity. That internship sparked a lifelong career and an inclination to give back to the profession.
Davis, a partner and the metro Washington tax market leader at Dixon Hughes Goodman (DHG) in McLean, is the vice chair of the VSCPA Tax Advisory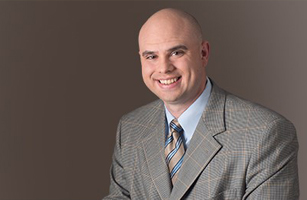 Committee, which gathers feedback from VSCPA members on tax issues and provides information on tax issues and legislation. He also serves on the VSCPA's Tax Professional Feedback Group, formed to help the Virginia Department of Taxation gather input from Virginia tax professionals.
For him, the committee work is a way to help shape the future of the profession and ease burdens on his fellow tax practitioners.
"It's been very enlightening having the opportunity to weigh in on different decisions, whether that's meeting with the Department of Taxation or gaining the viewpoint of CPAs," he said. "I've also been asked to serve on the Department of Taxation feedback committee. Being able to participate and be a part of something like that has been very rewarding."
Davis got his start on the Tax Advisory Committee in 2013, when he was working at Ernst & Young (EY). The VSCPA was seeking a Big Four representative on the committee, and Davis fit the bill. He stayed on after moving to DHG in 2015.
"The great thing about the tax committee itself is that there's a diligent effort to have the different parts of the state represented as well as different-sized firms," he said. "We have sole proprietors on the committee up to the Big Four. It's a wide range of representation."
"Different CPAs at different size firms have different considerations, and we want to make sure we're considering everyone across the state with respect to tax."
Davis got his start in the tax field as an undergraduate at Fairmont State University in his native West Virginia. He took a class from a professor, Glenn Harman, who had a tax practice on the side, and he asked Davis to be an intern. That led to three-plus years of employment in the practice and sparked Davis's interest in taxation and how it affects businesses.
That, in turn, shaped how he approaches his job. Davis cites the expansion of automation technology — a major driver of the VSCPA2025 strategic framework — as a reason for tax practitioners to expand their skill sets to include more advisory services as well as compliance.
"In today's environment, which is only going to get accelerated with technology, there's a shift in focus from being a compliance provider," he said. "Generally, if you're a compliance provider, you're looking at activity that's four to nine months in arrears, as opposed to helping people make real-time decisions in an advisory context that's relevant today. Educating people as to how taxes impact their business decisions and identifying opportunities that might affect their tax liabilities."
That's become his professional focus as he works with companies in a wide range of sizes and industries. He's worked with manufacturers, banks, retailers, technology companies, government contractors and media and entertainment companies, ranging from $50 million to $10 billion in revenue.
Right now, like many people across the country, he's waiting to see how tax reform will affect his clients. While reform efforts remain a moving target with the House and Senate bills going into reconciliation, he's helping his clients prepare for what could be coming down the pike.
"We can't, unfortunately, predict where this is going to end up — whether this is going to pass and get signed by the president by the end of the year or after the first of the year," Davis said. "But we're educating our clients on things they can do now, before tax reform is enacted, and what they need to be doing if tax reform does indeed pass and get signed into law."
After graduating from college, Davis got his master's degree from the University of Georgia and stayed in the state to work for EY in Atlanta. From there, he moved to Charlotte, N.C., before finding himself in Northern Virginia and moving over to DHG.
The D.C. metro area is the closest he's been to his hometown of Paden City, W.Va., and he has family connections to Virginia as well. His sister, Denise Watkins, was a CPA at Harris, Hardy & Johnstone in Richmond — and a VSCPA member — before leaving the profession to become a minister.
Davis is married with three children, and outside of work, he enjoys attending sporting events with them and playing tennis and golf. He's proud of his family, his efforts in serving his clients and the impact his work on the Tax Advisory Committee allows him to have.
"I take great pride in having a voice for CPAs across the state and examining how tax issues may impact the profession and clients," he said. "Sometimes, legislators or the Department of Taxation may have a certain intent in accomplishing something, but not really understand all the different impacts for practicing CPAs."