Editor's Note: This is part of a series of profiles highlighting the diverse interests and careers of VSCPA members. Know a member (including yourself) who would make for an interesting profile? Email VSCPA Communications Manager Chip Knighton.
When Sallye Williams, CPA, makes a career move, deep down, it's all about fit. Money and lifestyle are nice, but work based solely on those factors just isn't as fulfilling. She explains it best using a comparison she heard when she was starting out in public accounting.
"Early in my career, I had a couple of pieces of advice," said Williams, a senior manager at CohnReznick in Tysons. "One was that you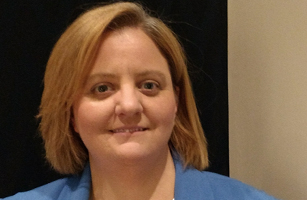 have internal and external clients. Your internal clients are the people that you work with, and you should treat them the same way you treat your external clients."
Williams spent the beginning of her career at firms in her native Tennessee, eventually landing in Nashville as an auditor at Carr, Riggs & Ingram. In 2011, she took a chance and made the move to Northern Virginia to work as a manager at a small firm, Ross, Langan & McKendree (RLM).
About a year ago, she was recruited to CohnReznick as a senior manager. She's been happy with the move and the opportunity to do more actual managing and mentoring of junior staff. The variety of clients the firm serves means there's rarely a day like the one before.
"Some days, it's acting like a senior staff and making sure the jobs are getting done," she said. "Other days it's coaching meetings, schedule meetings, engagement team meetings and supervising jobs. I try to get in earlier because that gives me an hour or two before the phones start ringing and staff come in to ask questions."
Williams describes life as a senior manager as "managing up and managing down" in terms of her interactions with staff, clients and firm leadership. She plans an agenda for every day, but sees that plan derailed more often than not as she helps her staff work through their engagements.
"It can be a whirlwind," she said. "A lot of times at the end of the day, I sit and think, I worked all day long but I'm not real sure what I did."
Before moving to Virginia, Williams spent most of her life in her native West Tennessee, attending Union University in Jackson. She describes her introduction to accounting as "divine intervention" after starting out as a computer science major.
"I spent several weekends in the computer lab doing my final exam and my program still didn't run. I got a C in the class and decided perhaps that wasn't the career I wanted to spend the rest of my life in," she said. "I had taken a Principles of Accounting class because it fit into my schedule, and I really liked the professor, and that was sort of the flashing neon sign, as I like to say. 'Take this route.'"
Her move to Virginia followed a similar epiphany. Williams, who is single, found her social life in family-oriented Nashville unsatisfying and decided a change of scenery was in order. Northern Virginia fit the bill, both personally and professionally.
"I'm able to have better relationships here than I did there," she said. "Most people get married and have kids and have the white-picket fence dream you're sold. I've never been into that, and I wanted to experience something different.
"When I moved up here, I was a round peg and I found my round hole. Before, I felt like a round peg in a square hole."
That decision was a departure for Williams, who prides herself on her loyalty to her employers. CohnReznick is just her fifth employer since beginning her accounting career, and she has a good enough relationship with her former RLM coworkers that they still eat lunch together.
Her latest opportunity came at the right time for her, just as Northern Virginia presented itself when she was looking to leave Tennessee. Her newfound professional satisfaction is evidence she made the right call in prioritizing professional relationships.
"In all the positions that I've taken, and the ones that weren't motivated in this manner never made me happy," she said. "The ones that I've taken where I feel a connection with the people I interview with, the staff I work with, have been the most fulfilling jobs I've taken.
"I've had a couple along the way that weren't taken for those reasons, and those were mistakes. They helped get me along to where I am now, and they were learning experiences. They taught me that I need the personality and the relationships."
She added: "The work is kind of the work wherever you go. Auditing is kind of auditing. You're always going to be looking at an invoice and tracing it to this, wherever you are. It's the different personalities and industries that make it exciting."