Editor's Note: This is part of a series of profiles highlighting the diverse interests and careers of VSCPA members. Know a member (including yourself) who would make for an interesting profile? Email VSCPA Communications Manager Chip Knighton.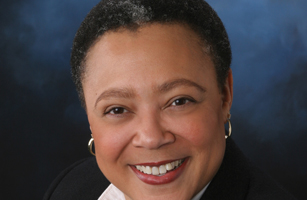 Vivian Paige, CPA, has done a little bit of everything professionally. She still does. And while her planned capstone to her accounting career didn't work out the way she had hoped, she didn't let it deter her from making an impact in politics.
"My plan had always been that I was going to go into public service at 45," she said. "In 2005, I was 45 years old. I was going to retire from public accounting and go into public service. That didn't work out."
Paige, a sole practitioner and accounting lecturer at Old Dominion University (ODU), made one run at public office, a bid for the treasurer position in Norfolk in 2005. She lost to the late Tom Moss, the incumbent and the former speaker of the Virginia House of Delegates, and went back to her practice. But she didn't stay away from politics for very long.
"Once you run for public office, either the political bug gets hold of you or you walk away completely," she said. "For me, it kind of sparked something, and I've been heavily involved ever since."
Along with some lobbying trips to the General Assembly, Paige found she could make her greatest impact as a source of information. She set up a political blog that led to her writing opinion columns for The Virginian-Pilot in Norfolk. She's also active in VSCPA lobbying efforts and has been a particular help in the relationship-building arena as the primary author of the VSCPA's Legislator's Tax Guide.
"I found that it was pretty easy to develop relationships with our elected officials," she said. "You just have to put in a little bit of time."
Paige was the seventh of nine children who grew up rather poor in the Phoebus section of Hampton. Her father, a minister, died when she was 13, and the main career advice she received at home and at school was simply "Go to college."
So that's what she did, enrolling at Hampton Institute (now Hampton University) after her junior year in high school through a dual-enrollment program. Following her mother's advice, she started out as a music education major before transferring to ODU and switching to accounting, which she'd seen ranked near the top of a list of jobs in Parade magazine.
At first, it seemed like she'd made the wrong move. She struggled with the material as several years of working every summer caught up to her and burned her out. So she left ODU for a year, but didn't leave accounting behind — she entered a co-op program and worked for the U.S. Internal Revenue Service (IRS). As it turns out, that break was exactly what she needed.
"When I came back to Old Dominion and took the second half of intermediate, that's when it clicked," she said. "It just clicked in my head. And once it clicked, from then on, it was good. It made sense.
"I don't know whether it was the year away from it or seeing it in the real world. I'm not sure. But something made it click. At the time, I thought it was seeing how it actually worked, not just, 'These are the books and records.'"
After graduating, Paige went back to the IRS, then worked briefly for the U.S. Naval Audit Service before starting her own practice. After several years, she started back at ODU as an adjunct instructor, a move which made total sense given her devotion to lifelong learning.
"I felt like there was nothing I couldn't do," she said, "so when a client came in and needed X, I said 'Let me learn about that.' I always knew that I needed to keep learning."
Then she followed her career plan and challenged Moss for the treasurer position. It didn't work out, but in 2011, a full-time position opened up at ODU, and she was ready.
Working in education scratched the same itch for Paige as her public service work. Remember, she'd planned to teach music before switching to accounting, building on a childhood filled with music. Now that she had worked so hard to build her accounting practice and the skills necessary to survive as a sole proprietor, it was a natural move to teach those skills to the next generation.
"You don't go into public service to make money," she said. "You go in, and this is kind of corny, but you do want to try and give back. You do want to try and help somehow, so that's what I did. So I started teaching in the fall of 2011, and I've been there ever since."
We've covered Paige's accounting, education, journalism and public service careers. But that still leaves one big one — music. She spent her childhood surrounded by it, with her entire family singing and playing music in the church. She's played the piano, violin, trombone, saxophone, French horn, trumpet and guitar, and she supplemented her income with paid singing gigs early in her career.
Just like all her other jobs, singing helped her become the professional she is today by challenging her to learn new things.
"When you're doing that, you're trying to get people to listen to you," she said. "That ego is what drives you. Running for office requires a similar ego. Running a classroom, same way. You're driven to have people listen to you, but there are different techniques to have people listen to you when you're singing and when you're trying to get people to listen and vote for you and when you're in the classroom. You're in a constant learning mode."
More importantly, music helped Paige stay connected with her mother, Elizabeth, who died in 2014 and suffered from dementia late in life. Paige would play piano at her mother's nursing home every Sunday and was struck by the way she sang.
"She wouldn't remember from one time to the next who people were, but she always sang," Paige said. "When we went to the nursing home, she would start singing songs that we had never heard before. Good thing I know how to play piano by ear.
"She was singing these old hymns that she had grown up with. She was born in 1921, so she would sing these songs that I honestly had never heard before. But there was a place in her brain that she went back to and sang these songs that she had grown up singing."
Paige still plays music but admits it's been difficult for her to do so since her mother's death.
"That has taken some of the joy from me of music," she said. "It just meant so much to me."
Following the trail of Paige's career, you see the importance of connecting with people. As she said, singing on stage requires you to forge that connection with the audience in a similar vein to teaching a class. She sought to make that connection with voters during her bid for elected office, and she's built relationships with legislators through her advocacy work.
And her writing gives her an outlet to connect and improve the lives of people she's never met.
"I think the success comes in when people stop me on the street and say 'You're Vivian Paige. Thank you for writing the article about X. I didn't know that,'" she said. "Success comes when I give people a piece of information that they didn't know that affects them."