Editor's Note: This is part of a series of profiles highlighting the diverse interests and careers of VSCPA members. Know a member (including yourself) who would make for an interesting profile? Email VSCPA Communications Manager Chip Knighton.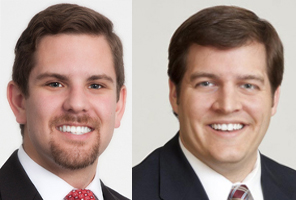 One major part of finding success at an employer is fitting in, which is much easier when you have people around you who are in your corner. That's how Brandon Pope, CPA, found his niche at Keiter in Glen Allen, and gained the experience to move on to the next stage of his career.
Pope (left) is preparing to start a new position as director of business development at Vaco in Richmond, but for now, he's wrapping up his tenure as a business assurance and advisory services supervisor at Keiter, the firm he's called home since 2015, after graduating from Virginia Tech and spending a busy season at Deloitte. He met one of the most pivotal figures in his career on his first day at the firm: business assurance and advisory services manager Brett Sinsabaugh, CPA (right), who has been his formal mentor pretty much ever since and helped him gain the skills and confidence that landed him his new position.
That relationship came about as part of Keiter's BAM initiative, where BAM stands for Buddy, Advocate, Mentor. The first two relationships in that title come into play when a new employee joins the firm — the buddy helps out with orientation and what Pope calls "silly questions," while the advocate speaks up on his or her behalf in performance, salary and promotion matters. But each employee chooses his or her own mentor after spending some time at the firm, and that's where Pope and Sinsabaugh made a profound connection.
"The buddy and the advocates are assigned to you when you start, but the mentor is somebody that you choose from self-selection," Pope said. "It's somebody that you feel can really cultivate your career and support you in whatever you need."
"One thing that made us connect is our fondness for networking and being social and being out there," Sinsabaugh said. "You just don't see that a lot in public accounting, and you don't see it that early in their career — associate level and senior associate level — really taking the bull by the horns and putting themselves out there like that."
While the buddy relationship goes away after a few weeks, the advocate (usually someone two levels above the employee) and mentor remain to help plot out and facilitate the employee's growth. While the advocate relationship approaches that of an employee and a boss, the mentor relationship tends to become more informal and resemble — or become — a friendship.
"It was nice to be able to work with a lot of different people," Pope said. "But Brett stood out for his quality of work, how well regarded he is with other people in the firm. We did connect well personally. He's a really easy to talk to, friendly guy, and somebody who I could see following along closely in his footsteps."
Pope and Sinsabaugh have a few things in common — they're both friendly, socially oriented young professionals who work in the same practice at Keiter. They're both active — Sinsabaugh plays tennis, while Pope enjoys outdoor activities with his soon-to-be wife. 
Perhaps the most notable similarity between the two is that Sinsabaugh, 34, is where Pope, 26, hopes to be in a few years. He's a couple of steps up the career ladder with a wife and children. The relationship between the two is a natural fit.
"You think back at how you were during that phase of your career and the struggles that you went through and the challenges that you had had to get over," Sinsabaugh said. "It makes you think, 'Did I handle that situation the best? What, now going through it, what could I have done better, and can I help him get through that in a different way?'"
The mentor role necessitated that Sinsabaugh be a strong advocate for Pope within the firm. While they have different specialties, Sinsabaugh knows from experience what Pope is going through professionally. That paid dividends when it comes time for personnel decisions at the firm level.
"You don't get to choose who advocates for you formally," Pope said. "So a lot of times when it can come to those bonus talks and the promotion talks, having somebody who is self-selected there to really be your cheerleader and be your voice in those meetings when you don't have a voice, I can point to that as helpful."
"One recommendation that I got when I looked for my mentor seven or eight years ago was that making sure it's someone that doesn't mind speaking up for you," Sinsabaugh said. "I think that's an incredible trait. What good is it having this extra voice for you if they're not going to say anything?"
In part because of their easygoing natures and in part because of Keiter's push for collaboration, the two have become friends in addition to their professional relationship. That Sinsabaugh was informally charged with helping Pope achieve his professional goals was just part of what brings them together. 
"Collaboration is part of our culture. It's one of our pillars," Sinsabaugh said. "Whether it's an audit or internally within the firm, to pop by my office or pop by his cube, or let's go to Potbelly just to talk. I don't see it as a mentee-mentor relationship. I see it as a colleague, 'How can I help you get to where you're going to be?' type of relationship."
The mentor-mentee relationship won't be ending just because Pope is moving on from Keiter. He and Sinsabaugh will stay connected, counsel each other on professional matters and continue to work together on projects outside their day jobs, including on VSCPA initiatives. 
Meanwhile, Pope will continue to seek out opportunities to pass along the professional guidance he's been given.
"I would not be where I am today or as successful as I am without the help that I've gotten," he said. "So my No. 1 priority is to help other people succeed. I read a quote one time that said, 'Successful people help other people succeed.' I think that's very true. I find value in sharing my experiences and what's worked well for me and what hasn't worked well for me with somebody else who can take that and help overcome their obstacles and really rise to the occasion."