Editor's Note: This is part of a series of profiles highlighting the diverse interests and careers of VSCPA members. Know a member (including yourself) who would make for an interesting profile? Email VSCPA Communications Specialist Chip Knighton.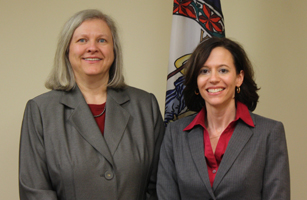 It's a new era at the Virginia Auditor of Public Accounts (APA), which has a new leader for the first time in nearly 30 years, and a new second in command as well. VSCPA members Martha Mavredes, CPA, and Staci Henshaw, CPA, are well-suited to take on their new challenges.
Mavredes (left), who had served as deputy auditor of public accounts since 2007, was appointed as the state's new auditor of public accounts in December and confirmed by the Virginia General Assembly earlier this year, replacing fellow VSCPA member Walt Kucharski, CPA, who had been in that position since 1984. Henshaw moved into Mavredes' old job from her previous position as team leader for the APA's Reporting and Standards Specialty Team.
That means an already busy time of year is doubly so for Henshaw, who is filling both her old and new roles while the APA works to hire her replacement.
"Normally, this time of the year is pretty busy as the General Assembly is in town and we are wrapping up some of our larger audits," Henshaw said. "Also, we are in the process of developing our project work plan for the next year. As I have been transitioning into the deputy responsibilities, I am still performing the duties of my former position at the APA, which encompassed multiple roles. We are in the process of filling those positions and I am looking forward to fully transitioning to the deputy position."
For Mavredes, Henshaw's appointment ended her own period of double duty. Since then, she's restructured the APA management team and expanded other internal groups. And she's not done yet.
"I am now in the process of recruiting for three additional directors, to cover openings on existing teams," Mavredes said. "We have scheduled a strategic planning retreat for later in March so we can look at what we want to focus on for both the short term as well as over the next few years. I am excited about all the possibilities that lie ahead."
Both Henshaw and Mavredes are approaching employment milestones. Henshaw joined the APA in 1994, and Mavredes has been with the office since 1984. The way they both talk about the office, it's easy to picture them staying there until they retire.
"The people here make it a great place to work," Mavredes said. "We work hard, but we have fun and form great friendships. We have watched each other's children grow up, and some of us now are sharing the antics of our grandchildren."
For Henshaw, the nature of the work is also a big draw. The diversity of different tasks keeps things interesting for her and allows her to continue growing as an accountant.
She's equally excited about continuing to work with Mavredes as they get used to their new roles. They've worked together on numerous projects since Henshaw joined the APA, often with the same dynamic in place.
"She gets the credit for introducing me to the [Comprehensive Annual Financial Report (CAFR)] audit, which is a project that I have truly enjoyed being involved with, first as a team member and eventually as the director," Henshaw said. "I succeeded her when I was promoted to the director of the CAFR audit and again when I became the Reporting and Standards Specialty Team Director and now again as Deputy.   … She has been a great mentor to me and I appreciate all that I have learned from working with her over the years."
Both women have an extensive volunteer history, both with the VSCPA and with outside organizations. Mavredes has sat on several American Institute of CPAs (AICPA) and National State Auditors Association (NSAA) committees and also lends her professional expertise as treasurer for the Richmond Kickers Youth Soccer Club.
"Working with other professionals in the industry helped me to have a network of people I could look to for guidance when I needed it," she said. "Being in leadership positions in those organizations has helped me to see the big picture beyond just what our office does and what is happening in Virginia. I gained exposure to new ideas that I could bring back and implement in our office."
Henshaw is also involved in committee work with the NSAA and has worked as a presenter for numerous professional organizations. She's also been heavily involved with the VSCPA and currently sits on the Society's Board of Directors.
"All of these experiences have helped give me a broader perspective on my role as a CPA," she said. "It has helped keep me on top of what is going on in the profession and share experiences with other CPAs."