Editor's Note: This is part of a series of profiles highlighting the diverse interests and careers of VSCPA members. Know a member (including yourself) who would make for an interesting profile? Email VSCPA Communications Manager Chip Knighton.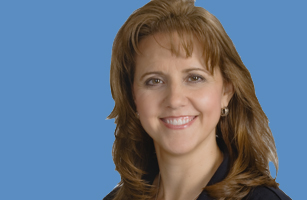 For all the noble financial literacy efforts from organizations like the VSCPA, there's nothing that teaches students how to handle their money quite like, well, having to handle their money. One VSCPA member and her employer have helped students do just that.
April Lee Lucy, CPA, is vice president of finance at Henrico Federal Credit Union (HFCU). Before that, she spent 16 years as a manager in the Henrico County Public Schools finance office. After joining the credit union, she helped champion an opportunity that tied her two employers together.
With Lucy's help, HFCU opened student-run branches at three Henrico County high schools and one middle school. Each branch hires two students to handle transactions and is open to students and staff at the school.
"We reach tons of students," Lucy said. "We keep a log on the number of folks that we touch during these sessions, and the HFCU is typically in the top five in the commonwealth for number of students reached."
The first student branch, at Deep Run High School, opened in 2004. That was followed by branches at Henrico High School (opened in 2006), Hermitage High School (2009) and Holman Middle School (2014).
"The high school branches are pretty much full service," Lucy said. "There are some legal aspects that students can't handle, due to their age, but we would typically send a member to one of the regular branches for that."
The student branches are intended to help them understand what it takes to be truly financially independent. In addition to the educational metrics discussed above, students have given the branches strong reviews. The Henrico County School Board and the HFCU board have been steadfast in their support.
"We want them to not get tricked by the different things out there, credit cards and such," Lucy said. "We've had feedback from student workers who have gone on to be successful and manage their money well. We even have some students who come back in their summers to work in our normal branches, to assist us by filling in for vacations."
Lucy, a Mechanicsville native, only stumbled into accounting through a clerical error in high school. After signing up for a psychology class, the school mistakenly entered her into a higher-level class she couldn't take without completing a prerequisite course. After a local CPA made a presentation to her first accounting class, she knew exactly what her track would be when she entered Virginia Commonwealth University (VCU). It was a perfect fit from the start.
"I fell in love with bookkeeping to begin with," she said. "I love the way everything ties and you can tell if you're doing things right."
Lucy started out in public accounting, first at Gary, Stosch & Walls, then at Hardy & Co., both in the Richmond area, working in both audit and tax. But the long hours of tax season got to her, and she joined Henrico County Public Schools in an effort to get on a more regular schedule and get more work-life balance.
Despite the industry switch, dropping her CPA credential was never an option. In fact, Lucy doubled down on the CPA, serving on the VSCPA Board of Directors from 1998–2001 and speaking at numerous career fairs about the doors the credential opened for her.
"As an accountant, you have so many open options in the world of finance," she said. "The CPA gives folks an extra level of confidence in your ability to understand and be an advisor to them."
That extends to financial literacy, where Lucy is just one of many CPAs working to raise awareness of personal financial principles. (Although it's especially appropriate for a CPA who shares her name with Virginia's Financial Literacy Month.) HFCU is active in Henrico schools beyond the student branches, offering myriad resources to teach students about financial literacy.
"We have lessons where we take students through realistic, though hypothetical scenarios in life planning, to help them gain understanding about what it takes to maintain a home, own and operate a car, start a family, take vacations, et cetera," Lucy said. "It's a real eye-opener for most, as typically Mom and Dad take care of these things without their input."
And the credit union provides ongoing financial education to members of all ages through tips and advice in its branches, events, lunch and learn sessions and through electronic communications.
"That's the credit union's mission," she said. "We're here to help people. We're not here to give it away — we're not charity — but we're here to help people do the best with what they have. Our motto is 'People helping people.'"
She added: "I love working for an organization that is so passionate about educating people. I'm so glad I made the decision many years ago to become a CPA, and I'm pleased with the path it's taken me on in both my career and personal life."